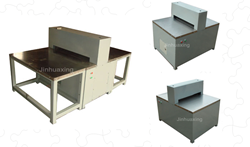 Puzzle-Machine.com Offers Custom Made Puzzle Machines for Home-Based Business Start-Ups
(PRWEB) September 23, 2014
Jigsaw puzzles are equally popular among kids and their parents. While kids find it a great fun to solve the puzzle games, parents love these games because their kids need to brainstorm for solving these puzzles. These brain development implements are often purchased in bulk by schools, after-school brain development institutions, big game parlors and non-profit organizations. Puzzle-machine.com recently came up with puzzle machine that can provide an immense growth opportunity for home based businesses. The company has speculated a tremendous growth of the puzzle game market in the near future. The machines that they are offering now can empower small business owners to make puzzle games with less cost and labor, the owners have claimed.
Puzzle games manufacturing is largely an untapped sector and except a few key players, the market is less competitive. The puzzle dies and other machines offered by Puzzle-machine.com would help the average home-based business owners to make huge profit with a little investment. The machines are now available in three different sizes, large, medium and small. The owners have made it very clear that these machines can be used for cutting a wide range of semi-hard materials such as paperboard etc. With the vast selection of puzzle game machines available on the website, the owners have planned to enable small entrepreneurs with a small budget to start their businesses without further delay.
"No one can ignore the fact that puzzle games have been popular through the years, and even the worst of financial meltdowns could not impact the market too much. We encourage each and every home business owner to start their puzzle game making businesses right away. Buying any of the steel rule dies and other type of industry-grade machines can prove to be a wise investment decision in both short and long terms. Our machines are all reasonably priced and we believe we can enable many people to start their businesses", one founder member of the puzzle machine manufactory expressed to the press.
It has been learnt that the China based puzzle machine manufacturer, Puzzle-machine.com will launch many more industry-grade machines for small business empowerment. "We have plans to add a few other products to our inventory", one senior executive told the press here.
About the Company
Puzzle-machine.com is the online retail window of Qingdao Jinhuaxing Die Cutters, a China based puzzle machine manufacturer supplying first-rate machines to different countries.
To know more about the company, visit http://www.puzzle-machine.com. Get more information about puzzle dies manufactured by the company by visiting http://www.puzzle-machine.com/dies.html. To check out the latest steel rule dies, visit http://topstampers.com/