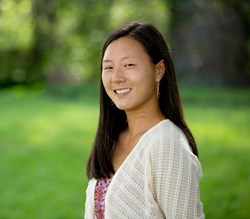 I believe it is important for people to continue to challenge themselves throughout life and to never stop learning. --Ashley Brunk, Fulbright Scholarship recipient
Phoenix, AZ (PRWEB) December 19, 2013
Ashley Brunk, a part-time writing center tutor at Paradise Valley Community College (PVCC), has received a Fulbright Scholarship for the 2012/2013 Academic Year.
The Fulbright Program is one of the most prestigious programs worldwide and selects recipients based on academic or professional achievement to study, conduct research, or exercise their talents abroad.
Brunk will travel to Malaysia, where she will spend 11 months as an English Teaching Assistant (ETA), along with 100 other Fulbright recipients. Starting in January 2014, she will teach at primary and secondary schools where her main responsibility is more on helping students become comfortable with speaking English rather than focusing on grammar and syntax.
"We are supposed to make conversation fun and less intimidating," said Brunk. "I am not just going over there to teach English though, I am also going as an ambassador for the U.S. I am curious to know how the rest of the world views America and its people, and I believe I can offer a slightly different perspective."
While taking education courses at Bates College in Lewiston, ME, Brunk became interested in how young children acquire and expand their literacy skills (reading and writing). This, along with her travel experience to countries like New Zealand and the United Kingdom, led her to apply for the Fulbright Scholarship.
Born in Pusan, South Korea, Brunk was adopted and has lived in Phoenix since she was five months old. In May of 2013, she graduated from Bates College with a B.A. in English. During her time at Bates College she also received All-Academic Team honors in Women's Tennis and wrote an English thesis novel titled "Sheila's Heart." Currently, she works as a writing tutor in the Learning Support Center at PVCC, aiding students with their schoolwork. Brunk is also a college admissions essay advisor for John Harvard Academy based out of Coronado, CA.
"I believe it is important for people to continue to challenge themselves throughout life and to never stop learning," said Brunk. "I think people have to make themselves uncomfortable in order to learn and grow, and I never want to stop doing either of those things."
The Fulbright Program, named after J. William Fulbright, is sponsored by the United States Department of State, Bureau of Educational and Cultural Affairs. Founded in 1946, approximately 300,000 students, scholars and teachers have participated in the exchange program that operates in over 155 countries. For additional information about the Fulbright Program, visit the website at: http://fulbright.state.gov.
Paradise Valley Community College is one of the 10 regionally accredited Maricopa Community Colleges.