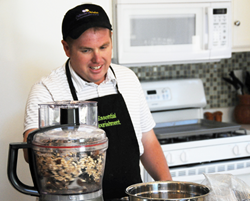 John really embodies entrepreneurship and small business development. He took the concepts he learned and applied them to create his own product. --Dr. Dina Preston-Ortiz, Business & Marketing Faculty at PVCC
Paradise Valley, AZ (PRWEB) November 10, 2014
Paradise Valley Community College (PVCC) student John Dalen wants to bring joy to as many people as possible through home-baked energy bars. Dalen, creator of Essential Energy Bars, plans to use his baking talents and faith to grow a successful business, serving and connecting people.
Dalen's form of autism makes him unable to communicate verbally. He uses a cutout paper-keyboard to type out letters into words that are then translated by his mother Jane Dalen – a process known as facilitated communication (FC).
When asked about his inspiration and goals, Dalen wasn't afraid to let us know and made it clear – he is blessed.
"I want to be a business and bake for God," Dalen said. "He has given me a desire and my goal is to create a community center café to serve my energy bars and help people."
The Rising Entrepreneurs® program through the Southwest Autism Research & Resource Center (SARRC) provided Dalen the opportunity for creating a recipe for a satisfying energy bar. There, he took a 10-week cooking course experimenting with different recipes until he found one he liked, altering and inventing his own recipe before eventually creating what he sells today.
He created Essential Energy Bars as a healthy alternative to store-bought snacks and packages them in eco-friendly materials. Ingredients include a healthy mix of dates, almonds, pecans, and therapeutic grade essential oils - which provide multiple flavors. Their high fat content comes from nuts, and approved for both vegan and Paleo diets.
The entrepreneurial spark provided by SAARC went hand-in-hand with classes Dalen was taking at PVCC to develop a small-business model. Currently, he attends college part-time and is working toward earning his Associate's degree in business marketing, with an emphasis on entrepreneurship.
"I'm a college student with goals for marketing," said Dalen. "PVCC has helped me live my dream."
Dr. Dina Preston-Ortiz, business/marketing faculty at PVCC, had Dalen in one of her online marketing classes.
"In that class students really learn about how to create business strategies," said Dr. Ortiz. "John really embodies entrepreneurship and small business development. He took the concepts he learned and applied them to create his own product."
Outside of school and his business, Dalen works part-time at the Arizona Centers for Comprehensive Education and Life Skills (ACCEL) as a part of their maintenance crew. Balancing work, school and a business is no easy task, but Dalen feels blessed to have to the opportunity to reach others through baking.
About Essential Energy Bars
Essential Nourishment LLC was established in June 2014. Essential Energy bars are homemade and baked in Dalen's home in North Phoenix with his mother's assistance. Both John and his mother Jane have been certified by the state to bake and sell from their home. Each has their food handlers' card and the bars have certified nutrition facts.
Faith plays a major role in production. Dalen prays over each batch before he bakes, and each bar is logo-stickered with John 3:16.
Essential Energy Bars are sold at the Beneficial Beans Café in the Scottsdale Civic Center Library and Matador Coffee in Phoenix. Dalen sells his plastic-wrapped bars for $1.75 and box-packaged bars for $2, respectively.
Paradise Valley Community College is one of the 10 regionally accredited Maricopa Community Colleges.