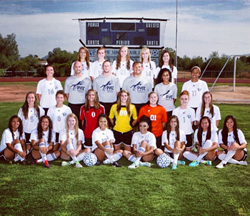 Paradise Valley, AZ (PRWEB) November 06, 2013
After 90 minutes of regulation play, two ten-minute overtime periods and the score tied 1-1, the Paradise Valley Community College Pumas captured their third Region I Soccer Championship in four years by defeating Chandler-Gilbert Community College in penalty kicks Nov. 2 at Shoenhair Field.
The Pumas prevailed in the overtime shootout 3-1, as sophomores Nicole Nsa, Courtney Chung and Ashley Stein converted their penalty kicks, while goalkeeper Rachel Cardwell stopped one of the two CGCC shots that were on net.
PVCC took an early lead just five minutes into the match when Tia Blackwell played a pass to Nicole Nsa who fired a low, curling shot from 20 yards out that found the inside of the back post. The Pumas continued to attack but could not find the insurance goal they needed. With a quick, well-played counterattack in the 25th minute, Chandler-Gilbert found its equalizer against the run of play as the Coyotes' Brenna Jarvis evened the match.
The remainder of the match and overtime periods saw a relentless assault by the Pumas and a spirited defensive, counterattacking effort by the Coyotes. PVCC would end the match with an astounding 29 shots and numerous quality chances to settle the match in regulation and overtime. But both defenses were resilient, as the conference's two best goalkeepers were on display.
Nikki Tejeda produced numerous fine saves to keep her Coyotes in the match, while PVCC's Rachel Cardwell rose to make perhaps the save of the match on a free kick in overtime.
The penalty kick shootout saw the first two Pumas shooters, captain Ashley Stein and top scorer Nicole Nsa, convert their kicks. The first CGCC shooter scored, but the next three failed to convert as Cardwell saved their third attempt.
Pumas freshman defender Maitlyn Davisworth, who drew the toughest defensive assignment all season, stepped up and drove home the penalty kick that would win the 2013 Region 1 Championship. She also earned the match Most Valuable Player Award.
The defending champion PVCC women's soccer team, under first-year coach Jon Ruzan, now looks to repeat as they head out for the NJCAA Division 1 National Championships in Melbourne, Florida, the week of November 18-23.
This is the third PVCC team to advance to NJCAA Championships so far this year. The men's and women's cross country teams compete for national titles in Iowa on Nov. 9.
Paradise Valley Community College is one of the 10 regionally accredited Maricopa Community Colleges.