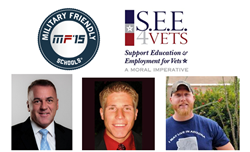 Phoenix, AZ (PRWEB) October 03, 2014
Paradise Valley Community College is proud to partner with S.E.E.4VETS (Supporting Education and Employment for Vets) to present the 1st Annual Veterans Summit, from 11 am – 1:30 pm, Friday, October 3, 2014.
This relationship development event is designed to introduce student and alumni veterans to business and organization leaders who will share what the work force looks for in employee candidates. This networking opportunity will help veterans fine tune their educational plans, and learn how to best position themselves to be ready at graduation to transition into the civilian work force.
At the same time, business representatives will have the opportunity to engage in dialogue with veterans and learn about their concerns and the challenges they face. It is not a job fair, but rather a way for veteran students and alumni to connect with leaders in the business community and learn how to highlight their skills and training.
Companies committed to attend include: Raytheon Missile Systems, USAA, The Berge Group, PacWest Properties, Inc., Luke Airforce Base, Grand Canyon University, and Thunderbird International University, with more to be announced soon.
Program
11:00 am – 11:05 am Welcome Dr. Paul Dale, President PVCC
11:05 am. – 11:15 am Opening Remarks Jim Waring, Vice Mayor, City of Phoenix
11:15 am – 11:20 am Summit Overview Lt. General Rusty Findley
11:20 am – 12:20 pm Panel Discussion
·Al Funderburk, CEO | Phoenix Logistics Logistics
A former military officer, Mr. Funderburk commanded combat aviation units at various levels, and served in numerous staff positions including Secretary to the General Staff at the US Army's Combined Arms Center at Fort Leavenworth, KS. He transitioned to industry in 2001 to take over the Comanche Helicopter's Operational Test instrumentation program and has progressed through industry ranks to his current position as Chief Executive Officer of Phoenix Logistics.
·Michael Bouey | PVCC Alum | Raytheon Missile Systems Engineer
Michael received two Associate's degrees from PVCC in 2008 before he graduated from ASU with Bachelor and Masters of Science degrees (both Magna Cum Laude) in Mechanical Engineering with concentrations in computational mathematical mechanics and computational fluid dynamics. After graduation, he received his commission as a Second Lieutenant in the Army National Guard as well as being hired as a Guidance Navigation and Controls Engineer for Raytheon Missile Systems. At Raytheon, Michael continues to volunteer through a tutor and mentorship program at Raytheon called Math Moves U. He won Sergeant of the Year honors for the 1120th Transportation Battalion, followed by Sergeant of the Year for 198th Regional Support Group, and was runner-up in the 2008 Arizona State Sergeant of the Year Competition.
·Ethan McCarty | PVCC Student Veterans Club representative
Ethan is a United States Air Force Veteran who served multiple stints in Afghanistan and South Korea as a military police officer. Ethan graduated from PVCC with a 3.25 GPA and is currently pursuing his Bachelor's degree in Public Administration with an emphasis in Justice Studies in the 90/30 NAU extended campus program offered at PVCC.
12:20 pm – 1:20 pm Networking Time Employer & Veterans
1:20 pm – 1:30 pm Closing Remarks Lt. General Rusty Findley
A light lunch will be served.
Businesses and organizations register here or contact (602) 787-6684.
Student and Alumni Veterans register here or contact (602) 787-7773.
Paradise Valley Community College has earned the designation as a Military-Friendly School by G.I. Jobs Magazine, placing it in the top 20 percent of schools nationwide that deliver the best experience for military students.
The event takes place in the Kranitz Student Center Patayan Community Room, located at the PVCC Union Hills campus, 18401 North 32nd Street, just west of the SR 51 Union Hills exit. Free parking is available.
Founded in 1985, Paradise Valley Community College, one of the 10 regionally accredited Maricopa Community Colleges, has an offers transferable academic courses as well as job-specific occupational training. The Union Hills campus is located just west of the SR51 Union Hills exit, at 18401 N. 32nd Street, Phoenix, AZ 85032. PVCC at Black Mountain, serving the far north Valley, opened in August 2009. PVCC is accredited by the Higher Learning Commission (HLC) of the North Central Association (NCA).