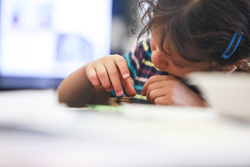 Continuous innovation, especially through technology and digital based tools, is how we are going to transform, revamp and retool students' understanding and practical application around financial capability.
San Francisco, CA (PRWEB) November 19, 2014
Today at the Social Innovation Summit, MIND Research Institute announced a $3.2 million gift from The PwC Charitable Foundation, Inc. to improve youth financial literacy by developing game-based math instructional software. MIND's financial literacy curriculum will be the first to apply the proven, visual ST Math® approach toward financial concepts, and will be the first to simultaneously teach the math skills required to achieve financial literacy.
The program will be geared toward sixth, seventh and eighth graders and will include modules that prepare students to solve challenging problems in areas such as saving and investing, planning and money management, home buying, environmental sustainability, credit and debit, and risk and insurance. The financial literacy curriculum will teach students to use mathematical models to answer challenging financial questions such as, "What will actually happen to my monthly debt payment if my interest rate adjusts?" This approach will allow students to develop and practice the necessary math skills fundamental to sound financial decision-making. The program will also include assessments and reporting for teachers to gauge their students' understanding of the financial literacy concepts.
"Our financial literacy program is going to do two things that make it truly unique and impactful for students," explained Matthew Peterson, CEO and co-founder of MIND Research. "First, it will give them a solid foundation in mathematical skills necessary for finance, and then it will give them the opportunity to practice those skills through games, so they are learning by doing instead of just passively taking in the information."
Forty-three U.S. states have adopted K-12 financial literacy standards, and online resources and courses have sprouted up to help teachers tackle the issue. A recent report by PwC, Leveraging Technology in Education, points out that school districts' investments in educational applications for use by students and teachers is relatively small compared to the investment in technology infrastructure. PwC Charitable Foundation, Inc.'s investment in MIND's financial literacy curriculum is one step toward changing that.
"Continuous innovation, especially through technology and digital based tools, is how we are going to transform, revamp and retool students' understanding and practical application around financial capability," said Shannon Schuyler, principal, corporate responsibility leader, PwC and president, PwC Charitable Foundation. "We are proud to deepen our relationship with the MIND Research Institute to break new ground in this new and necessary phase of education."
This commitment complements PwC's Earn Your Future initiative, a $160 million commitment to advance youth education and financial literacy for more than 2.5 million students and educators over the next five years.
PwC and MIND Research have worked together on solving the U.S. math crisis since 2009. The firm has supported MIND's math initiatives that brought ST Math to high-needs schools in cities including Baltimore, Chicago, Houston, Las Vegas, Los Angeles, Minneapolis, Napa Valley, New York City, North Central Texas, Orange County (Florida), Orange County (California), Philadelphia, Seattle, Silicon Valley and Washington, D.C. The existing ST Math: K-6 curriculum has been used by teachers and schools to double or triple the rate of growth in math proficiency on state testing.
About PwC Charitable Foundation, Inc.
The PwC Charitable Foundation, Inc. is a section 501(c)(3) organization that makes contributions to the people of PwC in times of financial hardship, and to nonprofit organizations that support and promote education and humanitarianism.
About PwC US
PwC US helps organizations and individuals create the value they're looking for. We're a member of the PwC network of firms in 157 countries with more than 184,000 people. We're committed to delivering quality in assurance, tax and advisory services. Tell us what matters to you and find out more by visiting us at http://www.pwc.com/US. Gain customized access to our insights by downloading our thought leadership app: PwC's 365™ Advancing business thinking every day.
About MIND Research Institute
MIND Research Institute is a neuroscience and education social benefit organization, dedicated to ensuring that all students are mathematically equipped to solve the world's most challenging problems. MIND's distinctive visual approach to math and problem-solving is the basis of its innovative, research-proven ST Math® programs for elementary and secondary schools. MIND's programs currently reach over 800,000 students and 31,000 teachers in 2,500 schools in 40 states. For more information, visit http://www.mindresearch.org.