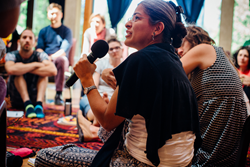 With the right tools and framework, anyone can transform their classroom, program, or group into a thriving creative community.
WHIDBEY ISLAND, WA (PRWEB) March 17, 2016
The research is clear: Creativity and innovation are the keys to vibrant classrooms, engaging programs, and effective teams. Yet there's little guidance for leaders wanting to put creativity into practice. At their third annual Catch the Fire Training, June 20-24th at The Whidbey Institute, Seattle-based nonprofit Partners for Youth Empowerment (PYE Global) promises to provide just that.
Billed as a "Creativity Bootcamp," PYE's Catch the Fire Training is based on the belief that everyone possesses innate creativity. PYE CEO and Co-Founder Peggy Taylor explains, "The fact is—we are all creative!" she says. "Our bootcamp shows people how to access their own creativity, and gives them practical skills to help others do the same."
Participants learn ways to cultivate a safe environment for creative risk-taking and innovation, and how to build bridges across lines of difference, whether cultural, socio-economic, or departmental. Taylor explains, "With the right tools and framework, anyone can transform their classroom, program, or group into a thriving creative community that inspires participants to fulfill their potential."
Recent research by Google backs up the training's premise. The years-long study, Project Aristotle, determined that psychological safety, a key component of PYE's approach to creativity, is crucial to high-performing teams.
Along with those who lead groups of youth or adults, Catch the Fire Training is a fit for educators. A recent virgin.com article showcased PYE's work in helping teachers equip students for 21st century success in school, life, and employment. Says Managing Director Gwyn Wansbrough, "PYE is simply supporting teachers who have long been hungry for change. They're ready to innovate."
Karen Taylor, a 7th grade teacher from Vancouver, BC, Canada, attended last year's workshop and says, "The Catch the Fire Training has brought a depth to my teaching practice unlike any other training I have experienced. The added bonus? It was an absolute blast."
Says past training participant Shri Kant Gupta, Chair of the Business Leadership Program at the School of Inspired Leadership in New Delhi, India, "I have attended many training programs across the globe. This has been by far the best not only in terms of personal learning but in transforming the way I now facilitate delivery of my own program."
Catch the Fire Training is led by a multi-cultural team of facilitators including PYE's Taylor, who has a Masters of Education in Creative Arts in Learning and taught creativity at Bainbridge Graduate Institute. An author, musician, and social entrepreneur, she has trained thousands worldwide to enrich their work with creative facilitation techniques and arts-inspired practices.
Diversity is a cornerstone of the Catch the Fire experience, with attendees ranging from locals to globetrotters. Openings remain in this year's training, and scholarships are available. Those interested in registering or learning more can visit pyecatchthefire.org.