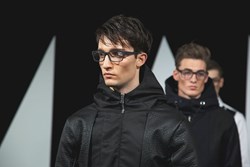 Designer Kerby Jean-Raymond draws inspiration from the Shizoku, 19th century Samurai.
New York, NY (PRWEB) February 11, 2014
Pyer Moss Fall/Winter 2014
Location: Milk Studios
Pyer Moss designer Kerby Jean-Raymond draws inspiration from the Shizoku, nineteenth century Samurai who, stripped of their power and nobility, were forced to carve out a new identity as warriors now living a civilian life. Jean-Raymond selected GEEK EYEWEAR® model 704 to best express the jagged shapes that evoke garments worn by mythical Shizoku warriors. Available in colors Black or Tortoise, Size: 50-20-145 mm, GEEK EYEWEAR® model 704 was among three (3) styles of GEEK EYEWEAR® selected to be included in this month's Fall/Winter 2014 Pyer Moss menswear collection. "I was compelled to recall a society that led a life of stoic tradition but suddenly had to change and adapt," said the designer. In the aftermath of struggle, my collection represents their evolution.
Kerby Jean-Raymond started his career working with atelier Kay Unger and Theory. Last month, he won the Fashion Group International Rising Star award for menswear. Jean-Raymond interprets traditional elements to create designs for the modern man. His philosophy is best exemplified in the second style Jean-Raymond selected, GEEK EYEWEAR® model RAD-09. Styled in size 54-17-145 mm, this frame comes in colors Black, Blue, Crystal Clear, Grey, Red, Black/Blue, Black/Green and Black/Red and Tortoise.
The severity of Jean Raymond's designs are defined by a palette punctuated by colors that evoke the gory details of Hagakure, the centuries-old spiritual guide and textbook used by the Samurai. GEEK EYEWEAR® style VO1 captures this ethos in colors Black Matt, Black/Crystal, Blue, Crystal Clear, and Tortoise and is the third model to be featured. Supplied in size 55-18-145 mm, GEEK EYEWEAR® model VO1 was designed in partnership with a modern-day warrior, welterweight boxing champion Victor Ortiz (@VICIOUSortiz).
For more information, please contact Alena Lehrer
Cell: 310.437.3700
Please visit Geek Eyewear® online at http://www.GeekEyewear.com
Email: info(at)GeekEyewear(dot)com
ABOUT GEEK EYEWEAR®
HIP. COOL. TRENDY. SEXY. CHIC. URBAN.
Geek Eyewear® celebrates diversity, individuality, and creative enthusiasm of Geek culture.
GEEK EYEWEAR® is available at http://www.GeekEyewear.com and at fine optical shops around the U.S. and worldwide.