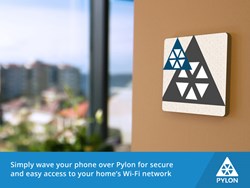 I came up with the idea for Pylon when I was at my friend's house and asked for the Wi-Fi password.
Panama City, LF (PRWEB) January 30, 2014
New to Kickstarter today is Pylon, an ultra-slim, three-square-inch plaque that lives on the wall near a person's home entrance. The plaque is pre-linked to a Wi-Fi base station and when a user waves their mobile device over Pylon as they enter a home, they are automatically connected to the host's Wi-Fi network without the hassle of entering a password. The connection works with Near Field Communication (NFC) on Android, and by bumping the Pylon with iOS, Windows and BlackBerry devices.
Manufacturing Pylon comes at a high cost and Chris Henseler, founder of Pylon, has looked to the crowdfunding community on Kickstarter to give him that extra push he needs to bring Pylon to homes across the world. Over the course of the next 30 days, Henseler is reaching out to Kickstarter backers with a funding goal set to $60,000.
Pylon was created to streamline the process of connecting to a person's Wi-Fi while bypassing the tedious task of entering an intricate or unknown password, all while security remains intact.
"I came up with the idea for Pylon when I was at my friend's house and asked for the Wi-Fi password. Unfortunately, he inherited his router so he had to go find it," states Henseler. "Then I thought, how awesome would it be if my phone could log into his Wi-Fi without having to go through the process of looking for networks and entering a password?"
When a guest connects to a home network, the owner is notified via the Pylon app, where they can control the degree of access of each of their guests. Close friends can be granted access indefinitely when they're in Wi-Fi range, while acquaintances may be granted access for only a few hours and intrusive neighbors can be left out with no access at all.
Pylon offers more than just an easy connection to the internet; once granted access by the owner, guests can put together music playlists to be played over integrated speakers and smart TVs. People can even take pictures and project them onto the TV in the form of a collage. With Facebook integration in the works, new friends will be able to connect digitally through Pylon with the tap of a button. Upon leaving the Pylon network, a host can even have the option of pushing a short thank you notification to the guest's device.
To be first in line to receive Pylon's initial manufacturing run, visit http://bit.ly/PylonKS and back the project today for an early bird price of $85 and regular price of $100. Also be sure to Like Pylon on Facebook and follow Pylon on Twitter @PylonProducts to stay up to date with the campaign's progress.
About Pylon
Pylon is an easy and safe way for guests to connect their mobile devices to a person's home wi-fi. A guest simply waves their device over the Pylon plaque to join the host's network. Through Pylon's smartphone app, Pylon owners have full control over who has access and for how long they have access. Pylon can also be integrated with Wi-Fi enabled devices such as wireless speakers and smart TVs so everyone on the same network can effortlessly share music, photos, videos, and messages. To learn more, visit http://www.pylonproducts.com.