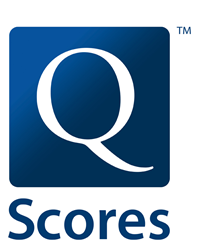 (PRWEB) June 17, 2014
The report's focus goes beyond animation and covers over 600 characters and licensed properties from TV, comics, movies, websites, home video entertainment, food and service brands, computer/video games and systems, toys/games/gifts/dolls, entertainment venues and other categories.
The data is available as a full report, demographic profiles of individual characters/properties or targeted rankings among a key demographic segment.
The report, released every six months, updates the recognition and appeal of 600+ characters and licensed properties among a nationally representative sample of 1800 consumers that includes kids (6-11), teens (12-17), parents and other adults 18+.
"This study has been in existence since the early 1980's and has grown to measure just about everything marketed to kids, teens and their parents," explains Henry Schafer, executive vice president of Q Scores. "In addition to measuring the potential market value of new properties, we can track established properties over the past 20-25 years and see how they've matured or trended over that period. Additionally, since many purchases are influenced by children, our clients want to see if the appeal of the characters and licensed properties is reinforced by the parents."
For more information, visit http://www.qscores.com/Web/Characters-and-Licensed-Properties.aspx. Rather speak to someone at Q Scores on the phone about your specific needs? Call Henry Schafer at 1-516-365-7979.
About Q Scores
Q Scores is the recognized standard for measuring the appeal of licensed properties, personalities, brands, characters and programs. Q Scores metrics identify the most enthusiastic and emotionally connected consumers of a personality, character or licensed property, program, or brand. Derived from our data collection model of the Favorites Concept, Q Scores metrics are an important predictor of greater consumer involvement. Understanding how these consumers are impacted, enables clients to make the most informed decisions regarding their marketing, advertising, and media efforts.
Each Q Scores category in our databases provides a wide variety of demographics for pinpointing target consumer appeal across age, gender, household income, market size, region, race, ethnicity, presence of children and other key characteristics. We offer a variety of custom research options for more precise target market analyses.
In addition to providing consistently accurate and reliable data, our top level staff has the experience and expertise to analyze and interpret the information relative to clients' specific needs. We are readily available by phone or email to guide our clients with our unmatched and unbiased counsel and analytical support.