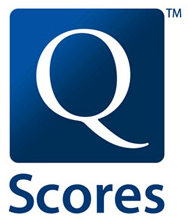 (PRWEB) October 30, 2014
Q Scores, the recognized industry standard for measuring the appeal of television programs, released its latest television program report this week.
The report is done on a quarterly basis measuring current viewer satisfaction and commitment to keep watching the shows. Q Scores measures all of the primetime shows on the five broadcast networks, about 100 syndicated programs and 140 regularly scheduled series on the major cable networks.
"With the ever-increasing fragmentation of the television audience due to DVR delayed viewing, video on demand and diverse viewing platforms like smartphones and tablets, the need to track viewer emotions and attitudinal reactions is growing in importance as a complement to traditional audience ratings," says Henry Schafer, executive vice president of Q Scores.
Each show in the report is profiled across 50 demographic segments. For advertisers, it can help determine the most cost-effective way to get in front of the right audience and have the right impact. For programmers, Q Scores measures the qualitative/attitudinal dimension via viewer reaction to a series of favorability and emotional connection questions. The data is available as a full report, on a program-by-program basis or as program rankings among key demographic segments.
In addition to the standard Program Q measurements among the general market, Q Scores has implemented a separate report based on enhancing the representation of the growing Hispanic population in the U.S. This expanded Hispanic sample is available as an addendum or supplemental report.
"The growth of the U.S. Hispanic population, now approaching 1 in 5 Americans, highlights their importance as U.S. consumers and the need to properly represent the various levels of Hispanic acculturation in the viewing audience with Spanish-dominant, bi-lingual and English-dominant households for programmers, media buyers and advertisers alike," says Schafer.
For more information, visit http://www.qscores.com/Web/Broadcast-Cable-and-Syndicated-Programs.aspx. Rather speak to someone at Q Scores on the phone about your specific needs? Call Henry Schafer at 1-516-365-7979.
About Q Scores
Q Scores is the recognized standard for measuring the appeal of licensed properties, personalities, brands, characters and programs. Q Scores metrics identify the most enthusiastic and emotionally connected consumers of a personality, character or licensed property, program, or brand. Derived from our data collection model of the Favorites Concept, Q Scores metrics are an important predictor of greater consumer involvement. Understanding how these consumers are impacted, enables clients to make the most informed decisions regarding their marketing, advertising, and media efforts.
Each Q Scores category in our databases provides a wide variety of demographics for pinpointing target consumer appeal across age, gender, household income, market size, region, race, ethnicity, presence of children and other key characteristics. We offer a variety of custom research options for more precise target market analyses.
In addition to providing consistently accurate and reliable data, our top level staff has the experience and expertise to analyze and interpret the information relative to clients' specific needs. We are readily available by phone or email to guide our clients with our unmatched and unbiased counsel and analytical support.