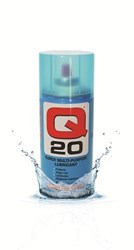 I have personally used Q20 in my car, in my home and at work and it never failed to amaze me.
Khobar, KSA (PRWEB) November 18, 2013
Q Products are inventive multi-purpose solutions to friction, moisture, rust and protection problems of almost any kind, and are taking the world by storm due to their multi-functional capabilities. Through O2ProFormance, a visionary provider and distributor of innovative auto care products, Q20; the flagship product of the range, is now launching in the MENA region as part of a vigorous expansion plan across the entire world.
"Q20 is the kind of product that every household and business should have," said Ahmed Al Hussaini, Managing Director of O2ProFormance KSA. "It has thousands of applications and uses that make it a necessary part of any home, office, workshop or factory."
Triton-Leo Group, the manufacturing company of Q20, chose O2ProFormance to launch its products regionally due to the company's reputation as the provider of innovative, multi-purpose products and its already avid existence in KSA, Egypt, Kuwait and UAE. Simon Smith, Marketing Director of Triton-Leo Group South Africa, commented on this partnership saying that O2ProFormance has avid experience and existence in MENA markets and that launching Q20 through the company was an obvious and simple choice. He further comments that this decision was based on O2ProFormance's global expansion plans and active marketing, which will facilitate the product's launch across its respective markets.
The full capabilities of Q20 are still to be revealed as new and innovative uses of the product are discovered every day. "It's a truly spectacular product!" says Ahmed Hassan; Managing Director of O2ProFormance Egypt. "I have personally used Q20 in my car, in my home and at work and it never failed to amaze me. O2ProFormance is proud to be the provider for this miraculous invention, and we are honoured that Triton-Leo Group trusted us with their expansion plan."
The uses of Q20 vary widely, starting with removing ink and tar from leather, carpets and car bodywork, and ending with preventing rust and moisture forming in electrical motors. It also acts as an effective lubricant, a corrosion fighter and preventer, and a moisture repellent.
As a global provider and producer of innovative products, with focus on automotive care and performance, O2ProFormance has devised an ambitious launch and expansion plan for Q20. The plan will witness the launch of Q20 across markets in Saudi Arabia, as well as Egypt, Kuwait and the United Arab Emirates. In this light, O2ProFormance developed a bilingual website for the product in English and Arabic at http://www.Q20Arabia.com. The website acts as a supporting tool to all English and Arabic speaking individuals and companies that are interested in knowing more about Q20 and its innovative multipurpose uses. Moreover, the company now has e-existence across social media networks including Facebook, Twitter and YouTube, aiming to interact with current and potential customers across all markets.
O2ProFormance aims to play an integral role in making innovative quality care products for automotives, households and businesses available across world markets and seeks to create global awareness on their benefits and multipurpose capabilities.