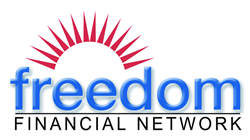 Consumers are adding debt as they begin to feel their employment prospects are brighter.
San Mateo, Calif. (PRWEB) June 25, 2014
As warm weather sets in nationwide, consumers seem to have contracted spring fever, judging by their rapid accrual of credit card debt during April (the most recent data available), notes the Freedom Financial Network Quarterly Comment on consumer debt and credit issues.
Freedom Financial Network observes several economic indicators closely and provides consumer education in its work to help consumers get out of debt and stay out of debt.
"It is heartening to see that consumers have greatly increased their faith in the future, as evidenced by the way they are ramping up the pace of spending on debt instruments such as credit cards and loans," said Kevin Gallegos, vice president of Phoenix operations for Freedom Financial Network (FFN). "This isn't surprising, as consumer confidence was markedly higher in May. We do become concerned, however, when debt increases rapidly, as it did in April, while the savings rate continues to decline."
The Conference Board reported in its May Consumer Confidence Survey that "the percentage of consumers expecting their incomes to grow over the next six months is the highest since December 2007 (20.2 percent)."
"We suspect consumers are adding debt as they begin to feel their employment prospects are brighter, and that their income will be rising," added Andrew Housser, FFN co-founder and CEO. "Smart consumers, however, will turn increased job security into increased savings to compensate for any bumps in the financial road in the future."
Recent financial data as reported:
1. Total consumer debt much higher. For April (the most recent data available), consumer credit was projected to have climbed by 10.25 percent, year over year, or nearly double the rate in January. The increase brought total consumer debt (excluding mortgage debt) to $3.175 trillion, setting a new high for the 32nd consecutive month.
2. Revolving debt moves significantly higher. In April, total consumer revolving debt, which includes credit card debt, skyrocketed by 12.25 percent. The total amount of revolving debt held by U.S. consumers was $870.4 billion. Revolving debt had stayed fairly steady from October 2012 until late 2013; had a $10 billion increase in January; and now has climbed by another $10 billion.
3. Non-revolving credit continues to climb. Non-revolving consumer debt – which includes auto and RV loans, and education loans – climbed to a projected $2.304.6 trillion in April. Annual growth in non-revolving credit was projected at 9.5 percent, two points higher than in January, when FFN issued its last report.
4. Personal income creeps up. In April (the most recent data available), personal income rose by $43.7 billion, or 0.3 percent. Disposable personal income rose $44.6 billion or 0.3 percent, the Bureau of Economic Analysis reports.
5. Unemployment continues to creep downward. The U.S. Bureau of Labor Statistics reports the unemployment rate at 6.3 percent, unchanged from last month and little changed since January.
6. Consumer savings is limp. The consumer savings rate for March was 3.6 percent of income, marking a continued decline in consumer savings in the most recent post-recessionary period.
The FFN Quarterly Comment pulls together significant statistical releases and provides quarterly comment on timely debt and credit issues that matter to consumers. To schedule an interview with Kevin Gallegos or Andrew Housser, contact Aimee Bennett at 303-843-9840 or aimee(at)faganbusinesscommunications(dot)com.
Freedom Financial Network (http://www.freedomfinancialnetwork.com)
Freedom Financial Network, LLC (FFN), provides comprehensive consumer credit advocacy services. Through the FFN family of companies – Freedom Debt Relief, Freedom Tax Relief, ConsolidationPlus, FreedomPlus and Bills.com – FFN works as an independent advocate to provide comprehensive financial solutions, including debt consolidation, debt resolution, debt settlement and tax resolution services for consumers struggling with debt. The company, which has resolved more than $2.7 billion in debt and assisted more than 265,000 clients since 2002, is an accredited member of the American Fair Credit Council, and a platinum member of the International Association of Professional Debt Arbitrators.
Based in San Mateo, Calif., FFN also operates an office in Tempe, Ariz. The company, with more than 600 employees, was voted one of the best places to work in the San Francisco Bay area in 2008, 2009, 2012, 2013 and 2014, and in the Phoenix area in 2008, 2009, 2010, 2012 and 2013. FFN's founders are recipients of the Northern California Ernst & Young Entrepreneur of the Year Award.