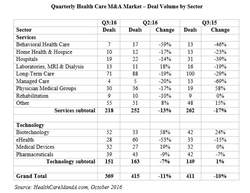 Norwalk, CT (PRWEB) October 28, 2016
Health care merger and acquisition activity slipped in the third quarter of 2016. Compared with the second quarter of 2016, deal volume fell 11%, to 369 transactions. Deal volume was also lower than in Q3:15, down 10% from the 411 transactions announced then. Combined spending in the third quarter totaled $48.0 billion, a decrease of 46% compared with the approximately $88.3 billion spent in the previous quarter, according to HealthCareMandA.com.
Health care services represented 59% of the third quarter's transaction total, slightly lower than the 61% share reported in the previous quarter, and even lower than the 62% share recorded in the third quarter of 2015. Investor interest in the services sectors was generally strong. Only two of the services sectors showed increases compared with the second quarter. The Laboratories, MRI & Dialysis sector, with 13 transactions, was 18% higher than in Q2:16, and the Other Services sector, with 55 deals, was up 8%. The Long-Term Care sector, which has enjoyed a prolonged bull market, posted 71 transactions in the third quarter, 19% lower than the previous quarter and 29% below the third quarter in 2015.
On the technology side, Biotechnology and Medical Devices were the only two sectors to show increased deal volume. Biotechnology deals grew 58% compared with the second quarter, and Medical Device transactions rose 19%. Biotechnology companies with promising, clinical-stage drug candidates were acquired by, or licensed their technologies to, pharmaceutical companies trying to keep their product pipelines full.
"Healthcare deal volume is showing signs of slowing down, after two years of record growth," said Lisa E. Phillips, editor of HealthCareMandA.com. "The important takeaway is that a slow-down is not a complete halt. But it's obvious the deal flow pace would have to pick up rapidly to beat last year's record of more than 1,500 deals. With the presidential election in November, and the Federal Reserve's expected increase in interest rates in December, 2016 doesn't look like the record-beating year some observers expected."
For more information on HealthCareMandA.com or The Health Care M&A Information Source, or for a membership to any of Irving Levin Associates' services, please call 800-248-1668. Irving Levin Associates, Inc., established in 1948, is headquartered in Norwalk, Connecticut and is online at http://www.levinassociates.com. This privately held corporation publishes annual and quarterly research reports, monthly and weekly newsletters, and maintains merger and acquisition databases on the health care and senior housing markets. If you would like to receive future releases, please email pressreleases(at)levinassociates(dot)com.