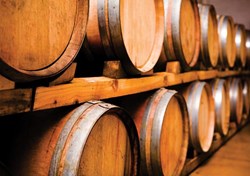 We didn't see anything as usable or as user-friendly as Mango.
San Jose, CA (PRWEB) August 23, 2013
Leading QHSE compliance software company, Mango, has been chosen by Australian Vintage to improve quality, health & safety and environmental management (QHSE) practices across its 12 sites. Crushing 9% of Australia's total annual production, Australian Vintage is one of the most awarded wine companies in the world.
Since implementing Mango, Australian Vintage has realized significant improvements in its QHSE management practices.
Mango has enabled Australian Vintage to streamline their compliance processes and significantly reduce the amount of time and effort needed to manage their QHSE obligations. It has also delivered greater employee satisfaction and more efficient communication and reporting.
"We chose Mango because of how user-friendly it is," says Val Cranwell-Smith, Group QHSE Manager at Australian Vintage. "We didn't see any other solutions that came close to Mango. It was clear that it had been written by people who really knew QHSE and that gave me the confidence to know that we'd get strong employee buy-in. I've no hesitation in recommending Mango to others - it's exceeded our expectations."
"Australian Vintage is an excellent example of the type of organisation that achieves big improvements with Mango," says Craig Thornton, Mango's Chief Support Officer. "Because they're so geographically dispersed, their paper-based system was causing them lots of problems – especially since they've got quality, health & safety and environmental needs. Being cloud-based, Mango allows Australian Vintage to run a single integrated QHSE management system that can be accessed by any of its staff, as and when they need. They've been a great organisation to work with because they're so professional and QHSE is so important to them."
About Mango
Mango creates beautifully simple cloud-based software for quality, health & safety and environmental (QHSE) compliance management. With Mango, organisations minimise the cost and maximise the return from their compliance activities.
About Australian Vintage
Australian Vintage Limited is a leading Australian wine company. Championing a fully-integrated wine business model, the breadth of its capabilities extends to vineyards, boutique and bulk wine production, packaging, marketing and distribution.