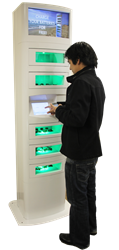 The World's Most Advanced Phone Charging Kiosk
Newport Beach, CA (PRWEB) August 09, 2013
Low Battery? It happens far too often. Everyday, millions of people around the world are saying "My Cell Phone Died". According to the Pew Research Center, cell phone usage and ownership is growing at an astounding rate. In fact, over 87% of Americans now own a cell phone, 45% of those being smartphone users. With the millions of apps available, smartphone users do everything from calling their family and friends to checking weather reports, logging on Facebook and shopping online. It's because of this constant phone usage that the low battery has become a universal problem; a problem that is now an opportunity for business owners to provide a solution.
"What happens when you're out, and your cell phone dies? Where can you really go to charge your phone?" says Jeffrey Maganis, founder of ChargeAll (http://buychargeall.com). It's from this problem, that ChargeAll was created. "Starbucks offers Wi-Fi right? It's a win-win situation for both business owners and customers. A customer walks in, buys food or drink, charges their phone and goes about their day. Nowadays, you can almost find Wi-Fi everywhere." Maganis added. ChargeAll's original cell phone charging station is a compact, inexpensive platform for everything from restaurants and bars to coffee shops and hotel rooms. It's already being used in thousands of locations around the world. The Hilton, Marriott, Georgetown University, Cheesecake Factory, Whole Foods and Toyota car dealerships are just of few of the many businesses offering charging stations to its customers.
The cell phone is more and more becoming the primary tool for consumer based decisions. According to PEW, during the 2012 holiday shopping season, nearly six in ten cell phone owners used their phone inside the store to help with their purchase. This included calling a friend, looking up reviews or comparing prices. It's not surprising that the cell phone has become such a popular platform for advertising. But, having a charged phone is as important as the cell phone itself. The more a person uses their phone, the lower their battery. The battery life of most smartphones just can't keep up with this constant usage. In fact, it's the number one complaint amongst smartphone users. People are sometimes forced to carry around spare chargers or external phone battery packs. The problem is that cell phone charger access is not always readily available.
New for 2013 is ChargeAll's wireless cell phone charging kiosk. It meets the demand of business owners who want a secure phone charging platform with robust advertising capabilities. The kiosk features five secure locking doors that are large enough to charge everything from iPads and Kindles to iPhones and Blackberrys. It literally charges thousands of different devices with fast charging tips and Qi inductive wireless technology. Users can simply place their mobile phones on the charging pad. Technology is constantly changing and venues can stay ahead of the curve for years and years to come with easy to replace charging tips.
Unique to ChargeAll's phone charging kiosk is a robust advertising platform and interactive touch screen display. Business owners can upload video content to stream at specified time intervals, making it a fully functional digital signage platform. This allows businesses to sell advertising space to local or national sponsors. The ability to create custom questionnaires and surveys for the touch screen display is equally appealing. It also allows venues to engage their customers and collect valuable information in exchange for the service. Advertisers can ask any kind of questions. For example, sporting events arena can ask users "How would you rate your overall experience? What is your favorite alcoholic beverage? Would you like to sign up for exclusive offers/promotions?" It's also a great way to promote social media campaigns on Facebook/Twitter and collect customer emails.
Large companies can create a nationwide deployment of phone charging kiosks in high traffic areas such as shopping malls, airports, arenas, theme parks and anywhere else people spend time. Small business owners can similarly benefit in their local area. Each charging kiosk can be programmed for both free or paid charging via the credit card reader and bill acceptor; choose from $1, $2 or $5. "It's a revenue generating machine for venues and business owners. You can make money through pay per charge, video advertisements and customer data collection. The possibilities are endless. Calling it just a phone charging kiosk is an understatement," says Maganis. ChargeAll's phone charging kiosk works similar to vending machines, ATM kiosks and digital signage displays. It's addressing a growing problem that everyone can relate to.
Reliability and downtime has also been an issue with other phone charging kiosks on the market. Business owners wanted a reliable platform that didn't break down and was easy to maintain. Each ChargeAll kiosk can be remotely controlled with full access. ChargeAll also stands behind their product with 365/24/7 support. The entire system is built on the Windows platform; it's easy as using your computer at home. Connect wirelessly through any computer terminal, making customization a breeze. The overall kiosk construction is solid, with safety and security features for any on-site personnel.
In recent news, Starbucks announced continued deployment of free wireless phone charging across their Boston and Silicon Valley locations. "This shows just how important phone charging is. ChargeAll's phone charging kiosk is a better experience and has all the angles covered. It's fast, safe and secure. It's more beneficial for business owners because they can actually engage their customers through surveys, questionnaires and video advertisements," responds ChargeAll company spokesperson Oceane Massoud.
One day, cell phone charging stations are going to be in every major public location. ChargeAll has created the world's most advanced phone charging kiosk to meet an ever growing demand and expand their popular product offering. From universal cell phone charging cables to multi device iPhone charging stations, ChargeAll is making sure people always charged and always ready.
About
Millions of people around the world are saying "My Cell Phone Died" and people love the idea of ChargeAll placing cell phone charging stations everywhere. Where do you think we should place cell phone charging stations? Let us know on our Facebook or Tweet us @chargeall. ChargeAll is the solution to the low battery problem with products for both businesses and consumers.
For more information on ChargeAll and to learn how their products can help your business generate more revenue, attract more customers and keep your guests longer and happier, visit our website http://buychargeall.com or call us at (949) 464-8652.