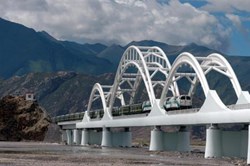 Travel travel to Lhasa by train in April, May, June, September and November in 2014!
(PRWEB) January 20, 2014
Since its completion in 2006 the Qinghai Tibet Railway has been steadily gaining popularity amongst travelers. Depending on where travelers board the new railway, the ride gives travelers 24-48 hours to relax and enjoy the majestic landscapes of Tibet and China. For travel groups planning to visit Tibet in 2014, Lhasa based Tibet travel agency TibetCtrip Travel Service-TCTS (http://www.tibetctrip.com) has a few new travel tips.

July and August see peak passenger volumes. To minimize service charges TCTS encourages travelers to plan their trip for April-June or September-December. Also, train tickets go on sale only about three weeks before departure making it impossible to absolutely guarantee tickets for specific dates. To avoid impacting the tour start date it's best to depart Tibet by train.
The highest point on the railway is 5,231 meters (17,162 feet) at Tanggu Pass, oxygen is available onboard for travelers who may have difficulty adjusting. While the train allows more time to adjust than arriving by plane the ascent is still fairly rapid. To help ensure the travel group's tour of Tibet goes smoothly its best to rest, relax, and stay hydrated upon arrival in Lhasa.
The train is climate controlled, however it is always a good idea to bring any clothes or personal items necessary to remain comfortable. This includes hygiene items and toiletries. Also, consider bringing calorie dense snacks, as the food available on the train might not be suitable for all travelers.
A ride on the Qinghai Tibet railway travel is certainly an experience travelers won't soon forget, the scenery a long the way is unparalleled anywhere else on the planet! Making reservations for train travel in China and Tibet is much different than many western countries; travelers must be flexible and remember that tickets for specific dates cannot be guaranteed in advance. The 2014 Tibet travel season is only a few short months away, now is the time to start planning a trip!
Devin Moore, author of this release, is a travel writer and independent economic analyst based in Denver, Colorado USA. In partnership with local Tibet travel agent TCTS (tibetctrip.com), Devin publishes Tibet travel related information in order to spread awareness of Tibet and its people.