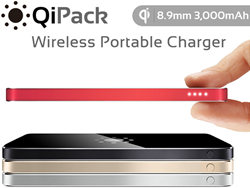 QiPack all started with the idea of making wireless charging easy and mobile.
Denver, CO (PRWEB) April 24, 2014
Today, entrepreneurs Michael Goyack and Lance Wu have launched QiPack, a mobile inductive charger that eliminates the need for charging cables and wires, on Kickstarter. Early adopters now have the opportunity to pre-order QiPack and help Goyack and Wu bring the product to market, starting at $45.
Qi, pronounced "chee," is the Wireless Power Consortium's (WPC) standard for wireless, or inductive, charging which allows mobile users to power up a variety of mobile electronics by simply placing a device on top of a wireless charging plate, no cords necessary. Inductive charging is nothing new, but what QiPack has to offer will certainly change charging on the go forever.
Qi enabled devices, like Google's Nexus, don't require anything more than the QiPack and the mobile device to charge the device's battery. Non-Qi enabled devices, like Apple's iPhone or Samsung's Galaxy, fall into one of two categories; those that need a coil receiver—placed behind the phone's back cover, over the battery—and those that need a case that has a receiver built in.
Most inductive charging pads sit on a desk and need to be plugged into an outlet. When users need to charge their device at home or in the office, they simply place it on the charging plate without the hassle of finding wires and plugging it in. But QiPack also acts as an external battery pack that users can take with them while they're on the move, no outlet necessary.
"QiPack all started with the idea of making wireless charging easy and mobile. We are constantly jetsetting around and wanted to make powering up our phones a simple task," says Wu. "What started out as just an idea turned into sketches, and from there transformed into the QiPack we have today; a thin, sleek solution to charging anywhere, anytime."
Now, Goyack and Wu are offering anyone the opportunity to be the first to try it out. Available on Kickstarter today, the earliest adopters will find early bird pricing specials for as little as $45. In return for supporting their project, Goyack and Wu are also offering personalized QiPacks and wholesaler/reseller specials.
To support the campaign and pre-order QiPack, visit http://bit.ly/QiPackKS. Like QiPack on Facebook and Follow QiPack on Twitter @qipack to stay up to date with campaign announcements.
About Wireless Efficiency
Founded in 2005, Wireless Efficiency is a professional and integrated OEM/ODM/EMS supplier in the wireless industrial space. The company aims to reinvent the way of technology in the wireless industry in terms of innovation design and eco-friendly manufacturing. They are committed to deliver wireless products and services that make lives better, easier and more efficient. To learn more, visit http://www.qipack.co.