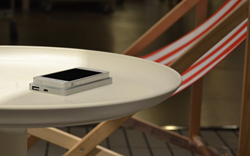 QiPack's combination of size and power make it unrivaled by competition.
Denver, CO (PRWEB) May 08, 2014
QiPack, the new mobile inductive charger from Wireless Efficiency, has reached the midway point of its Kickstarter campaign and has just announced plans to make QiPack compatible with the Samsung Galaxy S5 and HTC One M8 series. Potential backers have only 16 days remaining to back the campaign and pre-order their very own QiPack wireless charger. The $60,000 funding goal for QiPack, when reached, will cover manufacturing and shipping costs for the first wave of chargers.
Although there are currently other inductive chargers on the market, QiPack differentiates itself in its combination of size and efficiency. At 8.9 mm, QiPack is the thinnest charger currently on the market. Being the world's thinnest inductive charger doesn't make the QiPack weaker than its competition, however. With a battery capacity of 3,000 mAh, QiPack is comparable to its contemporaries and is more than powerful enough to charge any phone currently available.
"Being 'wired-in' is quickly becoming an antiquated saying," says Lance Wu, co-creator of the QiPack. "Wires can be frustrating and messy while docks are cumbersome and inconvenient. Plus, when out and about in public, trying to find a power outlet is like participating in a scavenger hunt. QiPack takes care of all of that by eliminating the need for wires or docks, providing you with a simple and convenient pad to charge your phone on."
Qi, pronounced "chee," is the Wireless Power Consortium's (WPC) standard for wireless, or inductive, charging. Inductive chargers allow users to simply place their mobile devices on the chargers, rather than connecting them through wires or docks. With technological advances occurring daily in the field of inductive charging, wired charging is a thing of the past.
There are currently over 60 qi-enabled phones on the market with more being added every year. QiPack works with both qi-enabled phones, like the Google Nexus 5 or the Nokia Lumia 1520, as well as non qi-enabled phones like the Apple iPhone 5 or the Samsung Galaxy S4/S5. Devices without qi capabilities simply require a Coil Receiver placed over the phone's battery or a Case Receiver that fits over the phone, both of which can be supplied with the QiPack depending on the reward level that backers choose.
"QiPack's combination of size and power make it unrivaled by competition," says Wu. "It's thin enough to slip into your back pocket, yet powerful enough to completely charge your phone in only a few hours."
Potential backers can still get the QiPack at early bird pricing. With a $45 pledge, backers with qi-enabled phones can receive their QiPack as well as a personalized thank you from Wu and co-founder Michael Goyack. Backers can also choose to have their QiPack personalized by pledging slightly more to the project.
For more information about QiPack's wireless charging capabilities or to pre-order today, visit http://bit.ly/QiPackKS. Also, don't forget to like QiPack on Facebook and follow QiPack on Twitter @qipack to receive news and information about QiPack's Kickstarter campaign.
About Wireless Efficiency
Founded in 2005, Wireless Efficiency is a professional and integrated OEM/ODM/EMS supplier in the wireless industrial space. The company aims to reinvent the way of technology in the wireless industry in terms of innovation design and eco-friendly manufacturing. They are committed to deliver wireless products and services that make lives better, easier and more efficient. To learn more, visit http://www.wirelessefficiency.com.