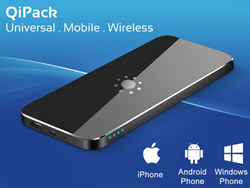 QiPack gives consumers a way to easily charge their mobile phones without wires, on the go.
Charlotte, NC (PRWEB) May 21, 2014
With only three days remaining in its campaign, QiPack has reached 97% of its $60,000 funding goal on Kickstarter and is looking to raise the remaining $2,000 in order to guarantee shipment of the first wave of pre-orders. QiPack is the new portable inductive charger from Wireless Efficiency, offering the public with an inexpensive and efficient alternative to charging devices with wires. QiPack decided to host their campaign on Kickstarter in order to secure manufacturing and shipping costs. Early adopters have until May 24 to pre-order their own QiPack and help the charger reach its funding goal.
QiPack isn't the first wireless inductive charger on the market, but it differentiates itself from its competition in size, efficiency and price. At 8.9 mm, QiPack is the thinnest inductive charger currently on the market while its 3,000 mAh battery makes it more than capable of quickly charging almost any mobile phone.
"We're a society that is constantly on the move," says Lance Wu, co-creator of the QiPack. "It doesn't make sense to have to stop and recharge. QiPack gives consumers a way to easily charge their mobile phones without wires, on the go."
Qi-enabled phones, like the Google Nexus 7 or the Nokia Lumia 1520, require no additional parts or accessories to be compatible to wirelessly charge with QiPack. Non qi-enabled phones, like the Apple iPhone 5C/5S or the Samsung Galaxy S4, will require either a small coil receiver placed over the battery or a fashionable case receiver that slips easily over the phone.
Potential backers only have until Saturday, May 24 to pre-order QiPack on Kickstarter. A pledge of $45 will reserve one QiPack at an exclusive Kickstarter early bird price. In addition to early bird pricing, backers can also choose to have their QiPack personalized by pledging slightly more to the project.
For more information about QiPack's wireless charging capabilities or to pre-order one today, visit http://bit.ly/QiPackKS. Also, don't forget to like QiPack on Facebook and follow QiPack on Twitter @qipack to receive updates about the campaign.
About Wireless Efficiency
Founded in 2005, Wireless Efficiency is a professional and integrated OEM/ODM/EMS supplier in the wireless industrial space. The company aims to reinvent the way of technology in the wireless industry in terms of innovative design and eco-friendly manufacturing. They are committed to deliver wireless products and services that make lives better, easier and more efficient. To learn more, visit http://www.wirelessefficiency.com.