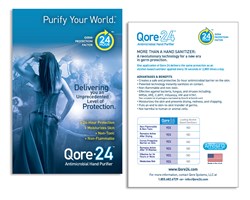 "Celebrities can feel good about using Qore-24 as part of their healthy lifestyle to safely kill germs wherever they go"
Tempe, Arizona (PRWEB) September 19, 2013
Television's biggest night is fast approaching, and Qore-24 is going behind the scenes. As stars take to the stage for the 65th Annual Primetime Emmy Awards this Sunday, Sept. 22, each will receive samples of Qore-24, the world's only nontoxic antimicrobial hand purifier that instantly kills germs, viruses and bacteria on contact and continues to work for 24 hours.
Qore-24 is among a variety of hot new products that the stars will receive in the Celebrity Retreat Room presented by Backstage Creations during the 2013 Emmy® Awards presentation. Qore-24 offers celebrities instant purification and 24 hours of continuous protection against germs, ideal for staying healthy during filming, appearances and frequent travel.
"Celebrities can feel good about using Qore-24 as part of their healthy lifestyle to safely kills germ wherever they go," said Vince Adam, chief operating officer of Qore Systems, maker of Qore-24. "We're excited for today's hottest stars to get their hands on Qore-24 during the Primetime Emmy® Awards."
Unlike traditional alcohol-based hand sanitizers, Qore-24 creates a safe and protective antimicrobial barrier on the skin that kills bacteria, fungi, mold and viruses on contact, without harsh chemicals. Based on the patented Amosil-Q technology, Qore-24 instantly purifies skin and nails, lasting 24 hours and through repeated hand washing. Gentle and moisturizing on the skin, Qore-24 is non-flammable, non-toxic, EPA approved and FDA registered.
Qore24 is now available from select retailers and online at Amazon.com.
About Qore-24
Headquartered in Tempe, Ariz., Qore Systems is a research and development company dedicated to the discovery and production of products created with Amosil-Q, a patented antimicrobial barrier that safely kills germs by destroying them on contact, without harsh chemicals. For more information about Qore Systems, please visit http://www.qore24.com.