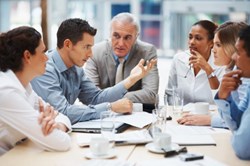 A code of conduct would help potential and current QROPS holders feel much safer and secure
London, UK (PRWEB UK) 13 September 2013
Pryce Warner International Group – According to international-advisor.com, a linkedin group spearheaded by Tim Webb is discussing and pushing for the creation of an official QROPS code of conduct.
The group is heading up discussions as to whether or not such a code is necessary, and whether or not it would be useful and possible to implement.
David Retikin, Director of Operations and Pryce Warner International Group, commented: "Though the discussion is currently unofficial and in its early stages, this is an idea that we wholly endorse. A QROPS code of conduct officially recognised and backed by HMRC would provide a clear framework for QROPS advisers and managers to be held accountable to. It would also make it much harder for providers to miss-sell, something that rogue advisers have done in the past to the detriment of the industry's reputation. A code of conduct would help potential and current QROPS holders feel much safer and secure, something that can only benefit the industry long-term."
Several QROPS jurisdictions already have local code of conducts, such as Gibraltar and Malta, but an industry wide standard has yet to be introduced.
HMRC publish and update the regulations surrounding QROPS but it is up to providers to set their own official standards in terms of the general way in which QROPS are advised upon and sold.
Tim Webb, founder of the group, commented: "[We should channel] our energies into drafting [a QROPS code of conduct], and [encourage] voluntary adoption by publication of it, and circulation of it to UK registered pension schemes and QROPS providers and the media. This will help to protect naive individuals from…ill-informed or unscrupulous providers or advisers."
He continued: "Anyone can sign up there [linked in], as it is open to anyone, and quite a few people have already expressed an interest. Hopefully more will join us soon. It won't happen overnight, but if we don't start somewhere, it won't ever happen at all."