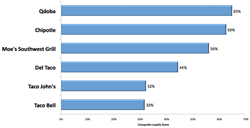 In the great Mexican grill showdown, Qdoba Mexican Grill edged out Chipotle, taking the title of consumer favorite
Boulder, CO (PRWEB) April 30, 2014
Market Force Information, a worldwide leader in customer intelligence solutions, has released the results of a nationwide study revealing consumers' favorite quick-service (QSR) and fast-casual restaurant chains, based on satisfaction. More than 6,100 consumers were polled for the study, which ranks the top restaurants in four popular food categories: pizza, Mexican fare, sandwiches and chicken.
In addition to uncovering the restaurants that consumers like most, the study examines why they prefer one over another, looking at factors such as service, food quality and value. For the rankings, Market Force asked participants to rate their satisfaction with their most recent dining experience and their likelihood to refer that restaurant. The results were averaged to attain a Composite Loyalty Score, which reveals the intersection between overall satisfaction and the likelihood of recommending a restaurant to others.
Papa Murphy's Takes the Pie in Pizza Category
Papa Murphy's, with its personalized take-and-bake pizza concept and focus on fresh ingredients, is satisfying the taste buds of consumers, earning it the No. 1 spot. The Washington-based pizza chain has grown to more than 1,400 stores worldwide, and its parent company recently filed for an initial public offering. Pizza Ranch ranked in second place, and Papa John's was third in this highly competitive category. CiCi's Pizza, Domino's and Pizza Hut also rated high in satisfaction, but consumers were less likely to recommend them to friends and family. See Graph 1.
Papa Murphy's Wins on Food, Pizza Ranch on Atmosphere
Market Force also asked consumers to rank the pizza chains based on various attributes such as food quality, customer service, atmosphere and overall value. Between them, Papa Murphy's, Pizza Ranch and CiCi's Pizza dominated most of the categories. Papa Murphy's rated first for both quality and healthy food, and second in fast service and value. Pizza Ranch received the most votes for atmosphere and accommodating children, and CiCi's was second in both categories. The fastest service went to Little Caesar's, while CiCi's took the top spot for value. Pizza Hut also fared well, ranking in the top five for most of the attributes studied. See Graph 2.
Qdoba, Chipotle and Moe's Top Mexican Chains
In the great Mexican grill showdown, Qdoba Mexican Grill edged out Chipotle, taking the title of consumer favorite. Denver-based Qdoba has built a strong following for its varied menu items, including specialty burritos and a three-cheese queso sauce. Moe's Southwest Grill, a Mexican/Southwestern fast-casual chain that is experiencing explosive growth, took third place. Del Taco, Taco John's and Taco Bell also made it into the top six. See Graph 3.
Qdoba Stands Out for Service, Chipotle for Food
To gain insight into how well these Mexican food chains fare on important brand attributes, study participants were asked to select the attributes that described their most recent experience. Chipotle's food seems to be a standout with diners, who ranked it first in the healthy food and quality food categories. Qdoba led the pack for fast and friendly service, and was second in most of the other attributes, including food and atmosphere. Moe's claimed the top spot for atmosphere, and ranked in the top four of every other category. Taco John's was named the most kid-friendly, and Del Taco bested the other chains in value. See Graph 4.
Consumers Favor Firehouse Subs and Panera for Sandwiches
Firehouse Subs and Panera Bread are far-and-away the nation's preferred sandwich chains, according to Market Force's study. Firehouse Subs earned a 68% Composite Loyalty Score, followed by Panera Bread with 62% and Jimmy John's with 54%. Subway, Arby's and Tim Horton's also ranked high on the list. See Graph 5.
Sandwich restaurant concepts are broadly doing well by offering innovative food options to consumers who prize convenience, variety and nutrition. Firehouse Subs has made inroads with diners with its specialty hot sandwiches and support of public safety organizations and causes. It is considered one of the restaurant industry's fastest-growing brands, and currently boasts more than 730 restaurants in 39 states.
Firehouse Lauded for Service, Panera is Tastiest and Healthiest
Market Force also wanted to understand how well the sandwich chains are performing on attributes such as friendly service, value and quality food. The study asked consumers to select the attributes that described their most recent experience at a sandwich chain, and Panera Bread led the pack with top votes in the quality food, healthy food and atmosphere categories. Firehouse Subs was the favorite in friendly service and accommodating children, and took second place in quality food and atmosphere. Subway was the value leader, followed by Tim Horton's and Jimmy John's. See Graph 6.
Raising Cane's Rules Roost in Chicken Category
In the battle of chicken chains, Raising Cane's, Chick-fil-A and Zaxby's surpass the rest. Raising Cane's was named the favorite among the brands studied, followed by Chick-fil-A, Zaxby's, Wingstop, El Pollo Loco and Boston Market. See Graph 7. Raising Cane's, a regional chain known for its chicken fingers, is experiencing a surge in popularity in the rapidly growing poultry market. The majority of its locations are in Louisiana and surrounding areas, although Raising Cane's has plans to expand into other parts of the country.
Raising Cane's and Chick-fil-A Excel in Key Attributes
Not surprisingly, the top three overall favorite chicken chains also fared well in the quality food category, with Raising Cane's ranking first, Chick-fil-A second and Zaxby's third. Raising Cane's also performed well in the service-oriented attributes, including snagging the top spot for fast service. El Pollo Loco and Boston Market were neck-and-neck for healthy food, and El Pollo Loco was also the value leader, followed by Church's Chicken. Chick-fil-A ranked highest for friendly service, atmosphere and accommodating children, and in the top three for quality and healthy food. See Graph 8.
What's Trending in QSR and Fast Casual?
Consumers still have a strong appetite for eating out at quick-service and fast-casual restaurants, as shown in the Market Force study. Most respondents reported that they had visited a QSR or fast-casual restaurant for lunch or dinner at least two to three times in the previous month, with slightly more dining out for lunch. See Graph 9. What's more, one-third said that they eat out at least three times a week at one of these types of restaurants.
Other macro trends that appeared in the study:

60% had visited a restaurant with a Coca-Cola Freestyle dispenser and, of those 94% used it
55% participate in loyalty programs offered by QSRs and fast-casual restaurants and, of those, 48% participate in three or more programs
39% read an online review, blog or tweet about a restaurant before dining there, which is on par with the 40% who reported doing so in 2012
10% posted an online review, blog or tweet about a restaurant (11% in 2012)
59% of customers who tried a new restaurant said it was bad or OK, while 41% were delighted
Of those who expressed dissatisfaction, the top reasons given were that the price was too high for the value, poor food quality and it took to long to receive an order
Delighted customers are 7.6 times more likely to recommend a restaurant than those who just had an OK experience
Survey Demographics
The survey was conducted in February 2014 across the United States and Canada. The pool of 6,197 respondents reflected a broad spectrum of income levels, with nearly 60% reporting household incomes of more than $50,000 a year. Respondents' ages ranged from 18 to over 65. Approximately 75% were women and 25% were men, and 41% have children at home.
About Market Force Information
Market Force is the leading global customer intelligence solutions company for multi-location businesses, including major retailers, restaurants, grocery and convenience stores, financial institutions, entertainment studios and consumer packaged goods companies. With more than 125 years of combined industry experience, Market Force has pioneered the industry with a suite of customer intelligence solutions – from proprietary decision-support tools to 600,000 field associates across North America and Europe who conduct mystery shopping, to real customer surveys, contact center solutions and social media monitoring. Its solutions enable brands to identify the actions required at the store level to increase customer loyalty and improve financial performance. Market Force was named one of Forbes' America's Most Promising Companies in 2011. For more information, visit http://www.marketforce.com.