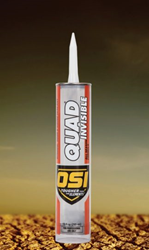 QUAD Invisible is ideal for sealing around exterior windows and doors, fiber-cement and vinyl siding, PVC trim, roofing and gutters.
Issaquah, WA (PRWEB) September 25, 2014
TheHardwareCity.com is continually expanding its online home improvement super store with the latest products. This month the store added two products from OSI's new "Tougher than the Elements" brand. Following extensive research and development, Henkel and OSI released the Quad Sealant series. Now available at the online hardware store is the OSI Quad Clear Invisible Window, Door, and Siding Sealant.
The OSI Quad Clear Invisible Sealant provides many of the same benefits as the original OSI Quad Max Sealant but in a different appearance. The clear product can be applied around fine building materials, such as stone and brick, for an aesthetic application. The air and moisture barring material adheres to numerous kinds of building materials without the need for primers, including vinyl siding, stucco, roofing, gutters, PVC trim, wood, glass and much more.
The UV and water-resistant sealant will preserve its properties and appearance since the elements are unable to yellow or crack the product.It can be applied in any weather condition, including freezing temperatures, extreme heat, rain, or snow. Because the new OSI Quad Sealant series allows for application during any time, it will help contractors meet tight schedule demands. With 3x stretchpotential, the product is permanently flexible, allowing movement of surrounding building materials without compromising its performance. The clear or invisible sealant may also be painted.
Contractors and homeowners can purchase the new sealant at a discounted price through TheHardwareCity.com.
About TheHardwareCity.com:
TheHardwareCity.com assists customers in choosing the best tools and products for home improvement projects. The experts at the company are available for live chat and offer great customer service. Most products are available for a price less than retail because the hardware store attempts to cut costs and save its customer's money whenever possible without sacrificing quality of product. Since its establishment in 2007, the store has grown continually and is now one of the largest online hardware retailers. To view more about the company, visit http://www.thehardwarecity.com/.