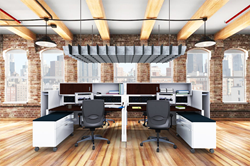 We are looking to change the way people think about office furniture, to make its permanency and inflexibility a thing of the past.
Brooklyn, NY (PRWEB) July 14, 2017
Quadra Furniture & Spaces, the New York-based designer furniture rental company, announced today the launch of its Office Interiors division. Established in 2005, Quadra provides luxury staging and rental options for individuals, corporate housing, developers and real estate professionals, sourcing furnishings from some of today's most influential designers. With its new Office Interiors division, Quadra takes its team to the workplace to create spaces that provide the flexibility clients need while addressing design, spatial and economic needs.
Workplace strategist Joe Ogno has joined Quadra to head up the company's Office Interiors division. Ogno has a 15-year history in the business of transforming spaces — from working with custom steel and glass applications to overseeing the logistics of supplying thousands of pieces of furniture to school systems, with a focus on strategy in what was previously a formula-prone vertical.
"My progression meshes seamlessly with Quadra's," said Ogno. "Quadra has a unique model, in that design touches everything we do. I am very excited to be at Quadra, directing the new Office Interiors division as it disrupts the stale and static world of desks, chairs and cubicles, and transforms today's workspace to inspire creativity and assist in the mobile workforce."
In today's office furniture market, explained Quadra Founder and CEO Robert Sablic, "dealers" are the norm. The Quadra model challenges this thinking, providing subscription, rental and purchase options that allow for a great deal of flexibility when planning a client's first office, expansion, temporary office or simply a re-design. "We are looking to change the way people think about office furniture," said Sablic, "to make its permanency and inflexibility a thing of the past. Change and growth is constant in every aspect of our lives. Why not have things around us — office furniture in this case — follow those changes to better suit the needs of the people who are the soul of your business?"
From Ogno's perspective, entering a project with design as a secondary focus leads to poor decisions that can affect key aspects of a business, including the attraction and retention of talent. "What sets Quadra apart," he explained, "is a formula of design and service that we apply to every aspect of what we do, future-proofing our clients' spaces to help them avoid the risk and disruption that is quick to rise in today's businesses. It's a new way to furnish office and shared spaces."
A strong history in both residential and commercial high-end furniture staging and rental services drives Quadra's capabilities in the emerging "resimercial" (residential + commercial) world. Seeking to create workplace environments that are anything but static, Quadra Office Interiors creates environments that bridge business objectives with design considerations, regardless of the constraints of the area. "We don't provide options for the sake of providing them," said Sablic. "For each one, we see a real need depending on business, type, size, age and culture."
Quadra's new Office Interiors division is a natural progression in the company's evolution. "We are excited to bring our design and furniture expertise to a space where, frankly, furniture and design has been an afterthought for a long time," explained Sablic. "Every space matters, and it is time to bring the way we think of everything else in life to the way we think of office furniture, regardless of the budget. After all, we know that change is constant and inevitable. Why not make it easy as well?"
About Quadra
Quadra Furniture & Spaces offers end-to-end furniture rental packages as well as custom furniture rental solutions for individuals, real estate professionals, developers, corporate apartments and office interiors. With a team of professional designers, project managers, logistics professionals and a dedicated Rental division, Quadra maximizes the aesthetic perception and overall value of its clients' properties and spaces. Quadra FS is headquartered at the Brooklyn Army Terminal in Brooklyn, New York. To learn more about Quadra, please visit http://www.quadrafs.com. Follow Quadra on Instagram at http://www.instagram.com/quadra.