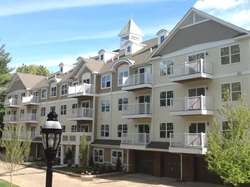 Quaker Green condos feature great design, lush landscaping and address the demand for quality homes in West Hartford.
West Hartford, CT (PRWEB) April 01, 2014
Finding an affordably priced new condominium home in West Hartford, CT complete with sought-after amenities just became easier. For a limited time, Quaker Green, a condominium community in West Hartford, is offering $5,000 off the sales price of its new condo homes.
To receive the discount, prospective home owners must print the "$5,000 Off Your New Home Purchase" coupon that is available on the Quaker Green website at http://www.quakergreenhomes.com. The coupon should be presented to a home sales representative after visiting the development and taking a quick tour of the furnished condo home models and the features of the community. This special sale is available for a limited time only.
Quaker Green is currently the only development in West Hartford offering new condominium units. With a limited supply of houses and condos in an extremely desirable town, the new condominium homes are competitively priced and include premium appliances and features. There are seven different home models in a spacious, well-landscaped, park-like setting. The community includes a wide range of desired amenities including a pool with a large sundeck, a state-of-the-art fitness center, a billiards room and an elegant club room for meetings and parties.
There has been considerable interest in the new condominiums and many homes have already been purchased. High demand for quality homes in the West Hartford area has spurred interest. "Our condos feature great design, lush landscaping and address the demand for homes in West Hartford," commented Gregg Smolev, Sales Director for GDC Homes, the award-winning developer of Quaker Green. "There is nothing like Quaker Green in West Hartford or in the neighboring towns of Avon or Farmington. These are the only new condominium homes available in the area." Currently, one-bedroom condominiums are sold-out and two-bedroom homes are available with prices starting at $215,900.
According to Smolev, "Quaker Green offers home owners many wonderful benefits." In addition to amenities such as a pool and fitness center, the development is adjacent to Beachland Park that features walking paths, fields and a playground. The park complements the setting of Quaker Green and home owners are assured that nothing will be built next door. Home owners also enjoy low-maintenance living and a warranty that covers home repairs for two years.
The amenities at Quaker Green are intended to provide home owners with a better lifestyle and promote a social atmosphere. "The community is made up of people of all age groups including singles and couples, so it is easy for all new residents to make new friends."
West Hartford is a desirable town to live in and, as a result, homes are in demand. In recent years, West Hartford has received recognition for its excellent schools and for being one of the best places to live. West Hartford Center and Blue Back Square are popular destinations in town that offer great shopping, dining, activities and events. In addition, there are plenty of recreational options for sports and outdoor enthusiasts.
The $5,000 promotional sale applies to all available home models. More information about Quaker Green and this promotion is available online at http://www.quakergreenhomes.com.
Quaker Green is a condominium and townhouse community in West Hartford, CT that features beautiful new condo homes at affordable prices. It is currently the only new condominium development in the area. The community includes a pool, sundeck, fitness center and club room as well as other amenities. The community features spacious, well-landscaped grounds, with walkways that surround the development and lead to an adjacent park. It is located close to West Hartford Center and Blue Back Square, offering great shopping, dining, events and activities.