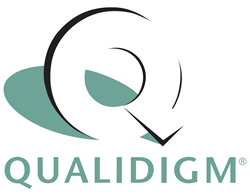 Wethersfield, Conn. (PRWEB) March 17, 2015
For the third consecutive year, Qualidigm, the mission-driven national health care consulting company in Wethersfield, Conn., has been named to the Best Places to Work list in Connecticut under the small to mid-sized company category.
The Best Places to Work program, created by the Hartford Business Journal, Best Companies Group, identifies and recognizes the top 35 Connecticut employers that best benefit the state's economy, workforce and businesses. In 2013 and 2014, Qualidigm was named the number one Best Place to Work in Connecticut in the small to medium-sized company category, which represents companies with 15 to 199 employees. The Hartford Business Journal also recognized Qualidigm as a top-tier Best Place to Work in 2008.
"We are thrilled to be recognized again as one of the best places to work in Connecticut, said Tim Elwell Qualidigm president and CEO. "We're extremely proud of Qualidigm's growth this past year, and this recognition is a true testament to our staff's passion and commitment to improve the quality, safety and cost-effectiveness of healthcare through transformational change in Connecticut and beyond," said Elwell.
Within the last six months, the company has hired several new employees and opened two new offices in northern New England.
Statewide companies entered the two-part survey process to determine the Best Places to Work in Connecticut. The first part consisted of evaluating each nominated company's workplace policies, practices, philosophy, systems and demographics. The second part consisted of an employee survey to measure the employee experience. The combined scores determined the top companies and the final ranking. Best Companies Group managed the overall registration and survey process in Connecticut, analyzed the data and determined the final rankings.
The Hartford Business Journal honored the top companies at an awards ceremony held at the Connecticut Convention Center in Hartford on March 11, 2015. Learn more about the Best Places to Work.
About Qualidigm:
Based in Wethersfield, Conn., Qualidigm's mission is to improve the quality, safety, and cost-effectiveness of healthcare through transformational change. Qualidigm provides consulting services to public and private sector clients nationwide. These services include consulting, data analysis, health information technology, patient safety, quality improvement, and utilization review. Qualidigm is part of a team that is serving as the Medicare Quality Innovation Network Quality Improvement Organization (QIN-QIO) under contract with Centers for Medicare and Medicaid Services for New England. Previously, Qualidigm served as the Medicare QIO for the State of Connecticut charged with protecting the rights of Medicare beneficiaries and improving the safety and quality of care they receive. Qualidigm is also a Patient Safety Organization (PSO) as designated by the State of Connecticut. http://www.Qualidigm.org
###