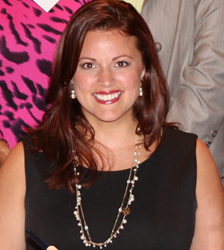 Wethersfield, Conn. (PRWEB) September 24, 2014
Qualidigm, the national healthcare consulting company in Wethersfield, Conn., congratulates Michelle M. Pandolfi, consulting director and recognized leader in the long-term care industry, for being named to Hartford Business Journal's "40 Under Forty" list.
The 40 Under Forty Award recognizes outstanding young professionals in the Greater Hartford area who are excelling in their industries through their leadership roles. These individuals are committed to success both professionally and personally, motivated by challenges and serve as role models for their peers.
Pandolfi began her career in long-term care because of her grandmother, who suffered from early-onset Alzheimer's disease, to improve the experiences of elders and their families. As a consulting director at Qualidigm, she manages national nursing home quality improvement projects and numerous patient safety projects. Pandolfi is also a founding member of the Connecticut Culture Change Coalition, an educational group and resource for improving the quality of life for both residents and staff within nursing homes.
"I am proud of Michelle for being recognized as one of Hartford's rising stars," said Tim Elwell, Qualidigm president and CEO. "Her leadership is making a difference in improving healthcare in nursing homes both locally in Connecticut and nationally. Her thirst for knowledge is inspiring and her potential seems limitless. Qualidigm is fortunate to have Michelle on our team," he said.
Pandolfi and her fellow 40 Under Forty winners were honored at an awards ceremony held at the Connecticut Convention Center in Hartford, on September 22, 2014 and were featured in special edition of Hartford Business Journal. See Michelle's Page.
About Qualidigm:
Based in Wethersfield, Conn., Qualidigm's mission is to improve the quality, safety, and cost-effectiveness of healthcare through transformational change. Qualidigm provides consulting services to public and private sector clients nationwide. These services include consulting, data analysis, health information technology, patient safety, quality improvement, and utilization review. Qualidigm is part of a team that is serving as the Medicare Quality Innovation Network Quality Improvement Organization (QIN-QIO) under contract with Centers for Medicare and Medicaid Services for New England. Previously, Qualidigm served as the Medicare QIO for the State of Connecticut charged with protecting the rights of Medicare beneficiaries and improving the safety and quality of care they receive. Qualidigm is also a Patient Safety Organization (PSO) as designated by the State of Connecticut. http://www.Qualidigm.org
###