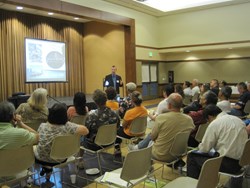 Featured insurance experts and top real estate professionals made it to top of the list in providing high quality solutions for local and out of state investors.
Yorba Linda, CA (PRWEB) November 10, 2013
According to the top retirement solutions company, Sense Financial Services LLC, top personalities in the insurance and real estate industries recently participated in the Wealth Building Weekend in Costa Mesa. Sense Financial is one of the topmost names in providing and facilitating qualified retirement plans especially the renowned Solo 401k plan. The company discloses some of the noteworthy names in both insurance and real estate making it big in today's competitive arenas. Tony Watson from Robert Hall and Associateds, based on background reviews and profile, is a licensed agent particularly a federally licensed practitioner and expert in taxation. He is well-known in the industry as taxpayer representative who can advise and prepare individual or corporate tax returns to clients.
Stan Dreckman, according to ratings is another renowned name in the competitive insurance world. Based on reports, today's financial arena is quite burgeoning with retirement account options yet Solo 401 k remained on top of choices for qualified retirement plans for small business owners and self-employed. The plan is highly recommended for its high contribution 401k limit. Dreckman is also a well-known name in educating and facilitating clients about prudent insurance products today.
Sense Financial features other names in the industry including Shannon Switzer. The law practitioner currently focuses on asset protection, estate planning and estate administration. As Solo 401 k is a permissible retirement account to use on real estate investing with easy 401k transfers for investment, Switzer is a name to remember.
Reed Hazard is an established name in the real estate investment industry with wide connections and networks. Collaborating with a good realtor with qualified retirement plans such as the Individual 401 k account is guaranteed revenue boost according to Sense Financial. Craig Hecht is another top featured realtor with impressive business reputation on property management.
Sense Financial disclosed other known players in the real estate industry including Ms. Nord, a licensed real estate broker based in Arizona with expertise on short sales, foreclosures and property management. Scott Pastel, Director of Marketing and Ross Nelson, Director of Operations in an established real estate company are experienced professionals who have helped many investors with opportunities and the right qualified retirement plans.
About Sense Financial Services:
Sense Financial is California's leading provider of retirement accounts with "Checkbook Control": the Solo 401k and the Checkbook IRA. Over the years, they have assisted hundreds of clients obtain checkbook control over their retirement accounts while providing them with the ability to invest in virtually any investment class, including real estate, private lending, mortgage notes and much more without the need for custodian approval.
To learn more about the solutions they provide, please contact: (949) 228-9393.