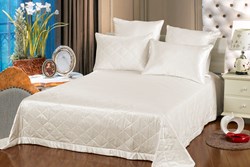 We are very proud that customers love our silk coverlet.
Drummond, OK (PRWEB) October 08, 2013
Lilysilk, a well-known international online store providing a large range of silk bedding, silk comforters, and other accessories, has recently launched a great promotion, 40% off, on its new collection of silk coverlets. This promotion only lasts 8 days, from 29th Sept to 7th Oct.
Weather is getting colder and colder. It is time to cover silk coverlet on the bed. By knowing that, Lilysilk spends time designing quality silk coverlets for its customers worldwide. The front side of silk coverlet is made of pure silk with diamond patterns, while the back side is made of 100% cotton to stop slipping from bed. Besides, the coverlet is filled with pure mulberry silk floss. According to Mike Lee, CEO of the company, their 19 momme silk coverlets become very popular in the current market for premium quality, elegant designs and delicate craftsmanship.
"We are very proud that customers love our silk coverlet. Customer's roles are important to our business. Now, we are offering 8 colors silk coverlets in Full, Queen, King size with 40% off promotion. We do hope more and more people can indulge in these soft and smooth silk coverlets," said Mike Lee.
Lilysilk has seen a strong success in its silk bedding products. Their aim is to bring ultimate comfort and affordable luxury to each customer. All customers from lilysilk bedding online store will be treated with crazy price reduction and additional gifts.
About Lilysilk
Lilysilk is a well known silk company in the industry for providing a large range of bedroom decors. Their range includes silk sheets, silk comforters, silk blankets, silk pajamas along with other related accessories. Selling high quality silk products at affordable prices is the big reason to choose lilysilk.
More information about the crazy promotion can be accessed at: http://www.lilysilk.com/.