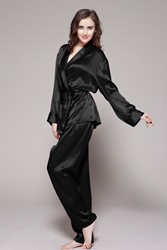 There are huge demands of one-stop and experienced pyjamas stores that provide excellent services online.
London,London (PRWEB) April 04, 2014
Lilypyjamas.co.uk is a new site that is well-established for people who love silk pajamas and like to be indulged in silk surroundings. This site provides premium-quality silk pajamas including silk robes and nightgowns. According to Mike Lee, CEO of the company, this time the business focuses on the best 22 momme silk sleepwear on the market, the quality of which simply can not be found anywhere.
19 momme silk is considered to be the entry level of high-end silk and is fairly resistant to wear and tear, while 22 momme silk is much more endurable. What's more, Silk fabrics age over time and become dull. There are a number of factors that help determine the speed at which this aging process happens. Some of the most notable factors include washing frequency, water quality, amount of usage, and one factor that is often overlooked is fabric density. Lower quality silk such as the one used in women's lingerie can easily become dull after a few washes, whereas 19 momme silk generally starts to lose its original shiny exterior after 5-6 months of usage. 22 momme silk however, can last up to 2 years before starting to dull.
Mike Lee is a responsible gentleman, who is proud and confident to launch his new site of silk pajamas. "There is a huge demand of one-stop and experienced pajamas stores that provide excellent services online. We are taking this chance to proudly launch this professional and exclusive pajamas store for our old and new customers, so that they can easily find out what they want for their night life."
In addition to premium quality silk nightwear, the business also offers excellent services, such as instant online help, free and fast delivery, 45-day no-hassle return policy, etc. Good customer service, top quality, competitive prices, fashionable designs, delicate craftsmanship, are some reasons to choose Lilypyjamas.
Any more information about the new site can be accessed at: http://lilypyjamas.co.uk/.