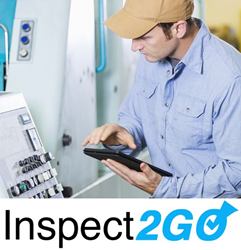 mobile/cloud technology helps small manufacturers compete
Orange County, CA (PRWEB) November 17, 2015
New cloud and mobile technology from Inspect2Go (http://www.inspect2go.com/qc) improves quality for small manufacturing companies. Quality checks and test results are entered on a tablet and stored on the cloud for real reporting and notifications.
Manufacturers lower costs and improve product quality using mobile and cloud based quality management software. Quality checks, defects and test results are logged on an iPad, Windows tablet or Android device, on the production floor. Inspection data is stored in the cloud or on the manufacturer's internal server. Real-time notifications preempt immediate production quality issues. Ad hoc reporting, statistical analytics and data visualization are used to spot long term trends and process improvement opportunities. Quality control and quality management solutions are customized to each manufacturer's specific requirements.
Technology

Tablet based data collection
Cloud based database and storage
Web based data analytics and ad hoc reporting
Fully automated, paperless process
Features

Log product inspections, quality checks and test results
Track pass/fail rates per part or product line
Provide defect/fault log overviews with percentage failure rates
Reference SOPs, worksheets, checklists, repair instructions and corrective actions
Real time monitoring for QA/QC/QMS processes
Manufacturing and product line monitoring
Real time notifications (triggered by a threshold, specification limit or defect/failure rate)
Data analytics and visualization
Ad hoc reporting on a custom, web based dashboard
About Inspect2Go
Inspect2Go (http://www.inspect2go.com) offers state-of-the-art inspection management software that improves quality and reduces costs. The software combines mobile, cloud and database technology. Inspections are conducted on a native mobile app that's easy to use and functions anywhere, offline, without the need for data connectivity. iPad, Android tablet and Windows mobile applications are available. The app syncs with a Microsoft SQL database for data storage. Software functions include inspection, scheduling, permitting, work orders, accounting, data analytics, ad-hoc reporting and management. Solutions are customized to fit the specific needs of each client.