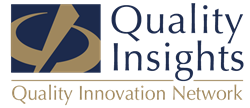 Charleston, WV (PRWEB) September 13, 2016
The Centers for Medicare & Medicaid Services (CMS) has awarded Quality Insights Quality Innovation Network two new Special Innovation Projects. One is aimed at reducing opioid misuse and diversion. The second focuses on increasing usage of Medicare's Annual Wellness Visit. Both projects seek to improve care in five states: Delaware, Louisiana, New Jersey, Pennsylvania and West Virginia.
Under the Reducing Opioid Misuse and Diversion project, Quality Insights will employ a number of strategies to address this growing problem. This includes providing continuing education on appropriate prescribing for healthcare professionals, engaging patients and families on appropriate utilization; and collaborating with government and non-profit agencies and consumer groups to support existing community-based initiatives or develop new ones. Project teams in each state will tailor their approaches to best meet the needs of the local populations.
Prescriptions for opioid pain relievers have quadrupled since 1999. In March 2016, the CDC estimated that 20 percent of patients seen in physician offices with non-cancer pain and/or pain-related diagnoses receive prescriptions for opioids. Today, opioid analgesics are the most commonly prescribed class of medications in the United States.
The second improvement project will focus on educating physician offices and their patients about Medicare's Annual Wellness Visit (AWV) benefit and associated preventive services. By providing tools and resources to physician offices, Quality Insights can help doctors and their staff incorporate the AWV and preventive health screenings into their daily routine. Additionally, Quality Insights' state-based teams will provide patients with information to equip them and their families to better manage their health and wellness, navigate the healthcare system and make informed choices about care.
In 2011, Medicare offered the AWV benefit to help patients prevent disease and/or disability and to slow the progression of chronic disease. Unfortunately, Medicare consumers have not used the AWV as it was intended. In 2014, CMS reported that only 14.5 percent of eligible Part B fee for service beneficiaries had taken advantage of the service.
"Our state-based experts are ready to launch these critical initiatives," says Quality Insights Quality Innovation Network Director Rebecca Cochran, MSN, RN, CPHQ. "We look forward to partnering with patients, their families, healthcare providers and community organizations to improve the quality of healthcare and, ultimately, the quality of life in our network states."
To learn more about Quality Insights' work in healthcare quality improvement, visit http://www.qualityinsights-qin.org.