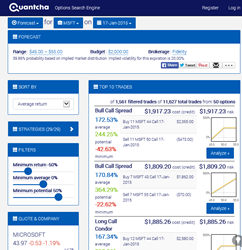 Our goal is to make it as easy as possible for investors of all levels of experience to succeed in trading stock options.
Redmond, WA (PRWEB) September 10, 2014
Quantcha today released its Options Search Engine (OSE), a suite of tools for searching, filtering, and analyzing stock market investments. It's available at https://quantcha.com.
UNIQUE AND POWERFUL.
The OSE offers investors a unique approach to optimizing their stock option investment strategy. After the investor selects a stock and a forecast, such as "XYZ trading $44-46 on January 17, 2015", the OSE applies over two dozen different trading strategies in order to determine the best trades for the provided forecast, generating up to tens of thousands of potential candidates. The investor can then easily filter the search results down to meet their desired balance of risk and reward. Once the investor finds a trade they like, the OSE offers a wealth of in-depth analysis features, including absolute risk & return calculations, detailed profit & loss charts, profit probability, and data derived from current market conditions, including implied volatility and implied distribution for their forecast target. The OSE even factors in the investor's budget and brokerage commissions & fees to evaluate the true bottom-line potential.
"Our goal is to make it as easy as possible for investors of all levels of experience to succeed in trading stock options," said Ed Kaim, President at Quantcha. "Our forecast-driven Options Search Engine removes the complexity from options trading while providing the crystal-clear risk assessment they need to understand the potential consequences."
MODERN, ACCESSIBLE, AND FREE.
The OSE is Web browser-based application, meaning that it is available on virtually every modern device, including iPhones, iPads, Kindles, Android devices and tablets, laptops, and desktops of all shapes and sizes, without any additional software. Investors simply navigate to https://quantcha.com and they're in.
In addition, the OSE is available for free and with no registration or other requirements for use. However, registration does offer additional benefits, such as the ability to access user history across multiple devices and the ability to create trade watchlists that can be automatically updated and sent to the investor via email before the trading day begins.
"We want to be the ubiquitous software that every options investor uses as part of their trading workflow," said Kaim. "That's why we have no barriers. We're free, easy to use, and available on any device. We don't show ads and don't require registration. You don't even need a brokerage account."
SOCIAL AND CONVENIENT.
In addition to hunting trades, investors are highly social and look to each other for ideas and feedback. Quantcha embraces social media and collaborative investing in the OSE by making it easy and convenient for investors to share their forecasts and trade ideas on major social networks, such as Facebook and Twitter, via email, or even as widgets that can be embedded in their own Web sites. All of these sharing and syndication features are free, and open up new opportunities for collaboration, whether it's between peers, an advisor and their clients, or broadcast by a market influential to their Web site and social media followers.
"Today's online investment tools largely follow the same paradigm they did fifteen years ago," said Kaim. "They were great for their time, but the rest of the Web has since moved on. We saw the opportunity to apply the principles of the modern Web to deliver the kind of experience today's investors have been missing out on."
For an in-depth evaluation guide, please visit https://quantcha.com/Home/About. Quantcha's OSE is patent pending.
ABOUT QUANTCHA.
Quantcha, Inc. is based in Redmond, WA, and was founded in 2014 with the goal of delivering high quality tools for searching, filtering, and analyzing stock market investments. For more information, please visit https://quantcha.com.
# # #
If you would like more information about this topic, please contact Ed Kaim at 425-445-5929 or email at ed@quantcha.com.