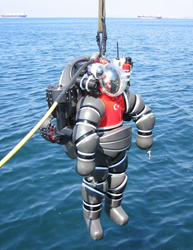 Burnaby, BC. (PRWEB) October 30, 2014
The Bhosporus Naval News website has posted an article outlining the capabilities of the OceanWorks HARDSUIT™ QUANTUM ADS (Atmospheric Diving Suit) for use during a recent submarine rescue exercise conducted 21 km off the coast of the Mediterranean city of Mersin. The ADS was deployed in 100m of water and was successfully used to connect fresh air to a disabled submarine.
The article goes on to indicate the use of the ADS by the Turkish Navy since 2007 and its operational depth of 365 meters (1,200 ft.).
Additional information on the exercise and the operational capabilities of the ADS can found at
http://www.turkishnavy.net/2014/09/30/turkish-navy-submarine-rescue-operation/ - Cem Devrim Yaylalı, 2014, Turkish Navy Submarine Rescue Operation, 30 September, Bhosporus Naval News, Istanbul, 6 October 2014
OceanWorks International is a subsea solution engineering company, providing more than 20 years of service to the Oil & Gas, Military, Scientific, and Environmental markets. For more information regarding OceanWorks International's products and services visit our website, http://www.oceanworks.com, or contact us at sales(at)oceanworks(dot)com.