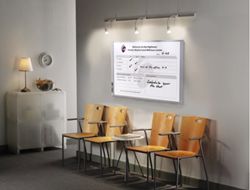 Russellville, KY (PRWEB) May 26, 2014
Whiteboards A to Z, top seller of Quartet whiteboards and other high-quality brands of whiteboards, chalkboards, display cabinets, bulletin boards, room dividers, and much more, is pleased to announce the arrival of a how-to video series centering on product installation on its website.
For customers who may need video assistance in mounting whiteboards, installing wall-mount clips, installing keyholes, and hanging bars and cabinets, Whiteboard A to Z has made it easy with a number of videos featuring a step-by-step process for each task, all found on its website's FAQs: Whiteboard Installation page.
Naturally before learning how to mount any kind of whiteboard, the decision about the type of whiteboard is key. Whiteboard A to Z, in conjunction with their Quartet Whiteboards supplier, offers detailed information to potential customers designed to help them determine the best type of whiteboard for their use. Homes and businesses use whiteboards for different purposes; and with so many choices, it is important to know the best features of each type of whiteboard to determine the best choice for their needs.
Whiteboard A to Z, while happy to provide the knowledge necessary for do-it-yourself installation, still recommends that if a customer does not have the essential tools and skills to successfully mount a whiteboard, bars, cabinets, and other products, it is best to let the professionals handle the installation. And for more help determining the best whiteboard, customers are encouraged to call customer service.
About Whiteboard A to Z
Whiteboard A to Z, a division of KD Specialty Contractors, Inc., has been in business since 1999 and started Whiteboard-AtoZ.com to serve more people over the internet by offering excellent products at great prices. Their website was designed to be easy and user-freindly. Freight quotes can be instantly calculated at check out so there are no hidden costs or waiting time.
Whiteboard A to Z has installed their products in hundreds of schools, businesses and churches. They can customize almost any product in their inventory, so if you don't see exactly what you are looking for, they can help you order the features you need. The top online whiteboard supplier, Whiteboard A to Z offers the most popular brands including Quartet, Best Rite, AARCO, and Claridge.
Contact:
David Scott
http://whiteboard-atoz.com
Whiteboard A to Z
215 Devasher Road
Russellville, KY 42276
(888) 767-7006