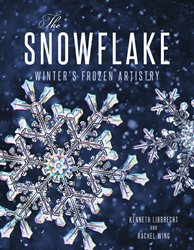 Takes a deeper look at the unique, hidden beauty of winter...exploring the science of snowflakes via incredible micro-photography
Minneapolis, Minnesota (PRWEB) December 15, 2015
The conventional wisdom has always been that no two snowflakes are alike – until now. Kenneth G. Libbrecht, a Caltech physics professor and author of the new book, "The Snowflake: Winter's Frozen Artistry" creates nearly-identical "designer snowflakes" out of ice crystals in his lab. The science behind how snowflakes are created - both in nature and in a laboratory - is fascinating and explored in the new book.
Libbrecht creates beautiful, tiny ice sculptures by turning water vapor into snow crystals under a high-powered microscope in his Caltech laboratory. The laboratory enables ideal growing conditions, according to Libbrecht. "Snowflakes have a tough life up in the clouds," he explains. "They're exposed to winds, collisions with ice droplets,and evaporation and the lab has none of those trials and tribulations." Tiny ice crystals on a glass plate get exposed to moist air, causing them to slowly grow. A snowflake takes thirty to sixty minutes to grow and the results are fascinating to watch. "We can create our own little snowflake factory," Libbrecht says.
When two of the seed crystals are dropped side by side on the glass they can grow simultaneously, and if they are sufficiently separated, each grows independently of the other. Changes in the environment means Libbrecht can control the design of each snowflake; changing the temperature and humidity around the snowflakes means both snowflakes can grow nearly identically, simultaneously. "As with identical-twin people," Libbrecht explains, "these crystal twins are very closely related, but not exactly alike in every minute detail."
"The Snowflake: Winter's Frozen Artistry" takes a deeper look at the unique, hidden beauty of winter. Libbrecht, along with his wife and co-author Rachel Wing, exploring the science of snowflakes via incredible micro-photography of individual snow crystals from all over the world. The book tells the history of snowflake observations mixed with an entertaining blend of tales of hunting snowflakes, snowflakes in literature and art, and the science of snowflakes, to bring a flurry of delightful snowflakes into the hands of warm-bodied humans everywhere. With this captivating book, we can better appreciate snowflakes, winter's frozen artistry.
The Snowflake: Winter's Frozen Artistry
By Kenneth Libbrecht and Rachel Wing
ISBN: 9780760348475
Hardcover, 144 pages and 270 color photos
$24.99
Available everywhere books are sold
About the authors
Kenneth Libbrecht is a professor of physics at Caltech, where he studies the molecular dynamics of crystal growth, especially how ice crystals grow from water vapor, which is essentially the physics of snowflakes. He has authored several books on this topic, including The Snowflake: Winter's Secret Beauty, The Art of the Snowflake, and Ken Libbrecht's Field Guide to Snowflakes. He lives in Pasadena with his wife, Rachel Wing. They have two children.
Rachel Wing is a park ranger for the city of Monrovia, California, at the foot of the San Gabriel Mountains. With a background in geology, she now specializes in balancing wilderness preservation with wildfire safety for nearby residents. Rachel loves to hike and climb in these hills, especially on the rare occasions when snow graces our desert-like plants. She has been accompanying Ken Libbrecht as a snowflake chaser for nearly 20 years.
###
For review copies or interview requests, contact:
Steve Roth
Quarto Publishing Group | Steve.Roth(at)QuartoUS(dot)com | 612-344-8156