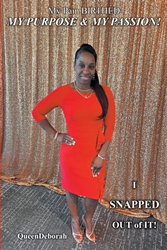 MEADVILLE, Pa. (PRWEB) January 19, 2023
"My Pain BIRTHED My PURPOSE & My PASSION! I SNAPPED OUT of IT!": a potent reminder of the strength and drive one can find in determined faith. "My Pain BIRTHED My PURPOSE & My PASSION! I SNAPPED OUT of IT!" is the creation of published author QueenDeborah, one of fifteen siblings born to a loving mother. QueenDeborah carries a Bachelor of Science degree in Justice Administration and an Associate of Arts degree in Paralegal Studies, both obtained from the University of Louisville. She also has a class certification in project management and over twenty years of experience in management.
QueenDeborah shares, "QueenDeborah believes GOD has blessed, anointed, and appointed her to write this second book; and it pertains to the MERCY of GOD! How merciful GOD has been to her! Out of the relationships, QueenDeborah asked GOD, 'Why am I writing books about this one?' The response was…there was only a step between me and death. (I Samuel 20:3)
"QueenDeborah truly does not know where she would be if GOD did not choose to have MERCY on her! An epiphany GOD gave QueenDeborah was, 'It's one thing for GOD to get and have one's attention, but when you have GOD's attention, that's a totally different case!' I have GOD's attention!
"'Behold, the eye of the LORD is upon them that fear him, upon them that hope in his mercy' (Psalm 33:18). QueenDeborah is hoping for the MERCY of GOD!
"One thing GOD showed QueenDeborah is that whoever has your HEART has you! The word HEART has two other words—h(ear)t and (hear)t! So whoever has you has your HEART and therefore has your EAR to HEAR whatever they say! It is TIME NOW to hear what GOD has to say!
"He that hath an ear, let him hear what the Spirit saith unto the churches (Revelations 3:22).
"So as you SNAP OUT of IT, ask, look for, and EXPECT the MERCY of GOD!
"I said, LORD, be merciful unto me: heal my soul, for I have sinned against thee (Psalm 41:4). But thou, O LORD, be merciful unto me, and raise me up (v. 10). By this I know that thou favourest me, because mine enemy doth not triumph over me (v. 11).
"GOD is a MERCIFUL GOD!
"Thou shalt arise and have MERCY upon Zion [QueenDeborah]: for the time to favour her, yea the set time is come (Psalm 102:13 KJV)."
Published by Christian Faith Publishing, QueenDeborah's new book will challenge readers to appreciate the struggle and value the blessings found along life's path.
QueenDeborah shares in hopes of aiding others as they grow and thrive in their spiritual journey.
Consumers can purchase "My Pain BIRTHED My PURPOSE & My PASSION! I SNAPPED OUT of IT!" at traditional brick & mortar bookstores, or online at Amazon.com, Apple iTunes store, or Barnes and Noble.
For additional information or inquiries about "My Pain BIRTHED My PURPOSE & My PASSION! I SNAPPED OUT of IT!," contact the Christian Faith Publishing media department at 866-554-0919.