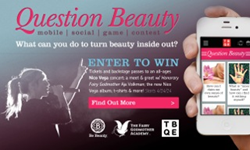 This is a part of a year long campaign, BE BEAUTY. All of the products based on the Fairy Godmother Academy brand illuminate the awesome power of girls and women who can shift traditional stereotypes. - Jan Bozarth
Austin, TX (PRWEB) April 03, 2014
Ananya, LLC, a trans-media studio that markets and licenses the popular tween brand, The Fairy Godmother Academy (FGA), has joined forces with San Francisco teen/tween mobile developer, Storalab (TBQE) to create a mobile game contest based on its cutting edge platform, THE BEST QUESTION EVER (TBQE).
The contest is designed to create dialogue with teens and tweens about their sense of self by asking them to question their ideas about beauty. It calls attention to rampant issues of body image, unrealistic depiction of girls and women and encourages a broader definition of what is beautiful for girls.
Both companies have engaged the help of popular singer, Aja Volkman of Alt Pop band, Nico Vega, who will act as a spokesperson (Honorary Fairy Godmother) for the movement and contribute VIP tickets, backstage passes, signed CD's and t-shirts to contest winners. Volkman is a rising star with girls and young women and represents a new breed of rock stars that seek to connect with younger audiences not only with their original music but also with the highest standards of integrity and creativity. Nico Vega's new Album "Lead to Light" is due out in July of 2014. Volkman is married to Imagine Dragon's lead singer, Dan Reynolds and is mother to 18 month-old daughter, Arrow.
The contest begins April 14, 2014 and runs through April 28, 2014. It can be accessed at TBQE.IO or FAIRYGODMOTHERACADEMY.COM. Contestants under 13 must have the permission of a parent. Additional prizes offered by Fairy Godmother Academy including branded t-shirts, temporary tattoos, and the hosting of a special YouTube event for winners.
"The Fairy Godmother Academy is a girl's media brand which started with the six book fantasy fiction series, published by Penguin/ Random House in the English language in the US, Canada and Australia. In addition to the media, FGA also offers real time experiences, Wisdom Missions and acts like Question Beauty. This is a part of a year long campaign, BE BEAUTY," commented Bozarth. "All of the products based on the Fairy Godmother Academy brand illuminate the awesome power of girls and women who, as a community, can shift traditional stereotypes and move toward authentic self-expression, global awareness and social action." Marcy Posner of Folio Literary Agency in New York City represents the Fairy Godmother Academy books and attorney Nick Fox, of Austin-based Dubois, Bryant and Campbell, LLP, represents Ananya LLC.
ABOUT ANANYA, LLC
Ananya LLC was established in 2011 to further develop and exploit the intellectual property The Fairy Godmother Academy™ in all forms of media throughout the world in the $550 billion (domestic) youth spending and influence market, of which tweens (ages 7-13) influence between $39 - $150 billion. The Fairy Godmother Academy is story-telling in the digital age- a trend in entertainment and media called trans-media, which goes beyond the book to express a narrative in a variety of forms (book, web, game, music, fashion) simultaneously, thus deepening the market's relationship with the brand. For more information, logon to http://fairygodmotheracademy.com/.