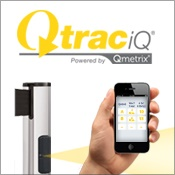 We are extremely excited to demonstrate the benefits of our latest queuing technology to retailers this year.
Valencia, California (PRWEB) January 08, 2015
Lavi Industries, a leading provider of in-queue merchandising and queue management solutions, will showcase its latest retail queuing technology at Retail's BIG Show (#NRF15), the National Retail Federation's flagship trade show held at New York City's Jacob K. Javits Convention Center, January 11-14, 2015.
The retail technology solutions to be showcased by Lavi Industries at NRF 2015 include:
Qtrac iQ Intelligent Queue Management
Lavi's Qtrac iQ intelligent queue management system lets retailers manage the customer experience with real-time information. Qtrac iQ features an inconspicuous sensor, embedded into a Beltrac® queuing stanchion, and counts customers as they enter, move through, and exit the queue. Dashboards and alerts help managers predict backups and optimize service point utilization. Learn more about Qtrac iQ intelligent queue management.
Qtrac iQ Impulse Merchandising Analytics
Qtrac iQ's impulse merchandising analytics system offers web-style analytics for front-end merchandise programs. Real-time queue data helps retailers optimize their front-end profits. Learn more about QtraciQ impulse merchandising analytics.
QtracCF Call Forward Queuing
Lavi's QtracCF call-forward electronic queuing system helps cashiers and service agents work smarter, streamlines the way customers are hailed, and adds digital signage to the queue. Learn more about QtracCF call-forward queuing.
QtracVR Virtual Queuing with Mobile
Virtual queuing from QtracVR allows customers to continue shopping while they wait for service. Text-based hailing and messaging lets customers know when it's time to check out. Learn more about QtracVR virtual queuing.
Qtrac Media Manager
Digital signage content and media scheduling is centralized with Qtrac Media Manager's powerful drag and drop system. Learn more about Qtrac Media Manager.
"We are extremely excited to demonstrate the benefits of our latest queuing technology to retailers this year," said Perry Kuklin, Director of Marketing and Business Development for Lavi Industries. "We hope to inspire retailers to improve the customer experience, maximize impulse sales, and streamline the flow of customers through the use of technology," he added.
Trade show attendees are invited to visit Lavi Industries at booth #4517. To pre-schedule a live demo visit
http://qtrac.lavi.com/people-counting/.
About Lavi Industries
Based in Valencia, California, Lavi Industries is the premier provider of public guidance, crowd control solutions, and queue management systems in North America. Leveraging its portfolio of world-class brands – Beltrac® stanchions, Directrac® signage systems, Qtrac® electronic queuing systems, and NeXtrac® in-line merchandising systems – Lavi has helped the world's leading companies effectively guide people in, through, and out of their facilities. More information is available at http://www.lavi.com.