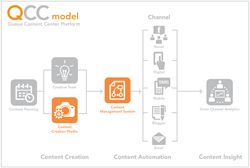 "With the expansion of our content studio and content management system, Queue offers CPGs a one-stop, end-to-end solution to meet the content marketing demands ahead in 2014," explains R.D. Vangalis, president, Queue.
Chicago, IL (PRWEB) December 23, 2013
The launch of Queue's content studio celebrates innovation in the creation and automation of content marketing. The first of its kind in Chicago, the studio offers a comprehensive suite of in-house creative services, including photography, video and CGI digital imaging, to deliver clients on-demand content generation. As marketing trend predictions indicate an unprecedented expediency for branded content in 2014, the introduction of Queue's new content studio is well-timed. In fact, experts at the Content Marketing Institute predict that 60 percent of B2C marketers plan to increase content marketing allocations in 2014.
Queue Digital Integration Manager Marko Vukasinovic explains, "Powered by Queue Control Center (QCC), our automated content management system, the studio addresses new challenges in creating branded content to meet consumer demand. Our platform delivers more content frequency, at a lower cost, with faster in-market delivery. On top of lessening dependence on generic stock images, the studio enables us to create and publish custom content in days instead of weeks."
"We've evolved the photo studio concept," Vukasinovic adds. "Queue's studio goes beyond digital imaging services by incorporating professional photography and video services in conjunction with in-house art direction, design, copy writing, and editing services. Now, we can reduce content fees by as much as 30 percent while the frequency of custom content may increase by as much as 60 percent."
The QCC (see image) acts as the content and media "engine," which enables real-time targeting, publishing, monitoring, and optimization of branded content as well as ads, coupons, promotions, sweepstakes, and more, across all media channels.
Queue President R.D. Vangalis reveals, "In 2014, we'll see CPG marketers engaging in a new marketing paradigm. In order to drive brand trial and sales volume, CPGs will need to take category share of owned and earned media to ensure their branded content, product information, incentives, and promotions are recalled by their target consumers. When you combine the rise of the empowered shopper consuming content on mobile and tablet devices together with the emergence of digital and social media platforms, I'm predicting an unprecedented demand for content creation and automation for CPGs. And, with the expansion of our new studio and content management system, Queue offers a one-stop, end-to-end solution to meet the content marketing demands in 2014."
About Queue
Queue is a next-gen brand activation agency. We deliver marketing automation and evolved shopper marketing (QS2.0), integrating retail, at-home, digital, social and mobile cross-channel-media to deploy Omni-channel shopper promotions and branded content. For more information, visit in-queue.com.
# # #