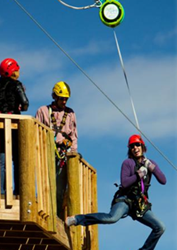 As a manufacturer of innovative adventure recreation equipment, we are excitedto be releasing the quickJump Free Fall Device.
Boulder, CO (PRWEB) October 30, 2013
Head Rush Technologies announces the launch of the quickJump Free Fall Device. The quickJump incorporates the company's patented eddy current magnetic braking technology to provide riders with an exciting and unique experience, combining the thrill of a free fall while smoothly controlling their descent.
"After jumping off with the quickJump, I was excited and I was ready to get back up there and do it all over again," said Heather Ingraham, zip line tour guide at Royal Gorge Zip Lines in Canon City Colorado. "My heart was racing... being a zip line guide and being familiar with many different products, I'd say this one was the best. The guests were smiling and laughing. I think they had an awesome time... the looks in their faces made it clear they were enjoying it."
The quickJump Free Fall Device provides an exciting amusement ride element with high throughput and low operational costs to operators of amusement parks, family entertainment centers, adventure parks, shopping centers, resorts, ropes courses and more. At a $2,995 introductory price for the 41' model, the quickJump is a fraction of the purchase cost of competing products and also requires less maintenance and operational costs than existing systems. The quickJump is modular and compact, making it easy to install and allowing the
operator to reconfigure to keep the attraction fresh.
"As a manufacturer of innovative adventure recreation equipment, we are excited to be releasing the quickJump Free Fall Device," said Candie Fisher, CEO of Head Rush Technologies. "The product is a thrilling amusement ride for the end users and the price point allows operators of any size facility to incorporate a quickJump Free Fall attraction. In fact, the money spent by an operator on the quickJump can be made back in as little as one day of operation."
The quickJump is available for sale through Head Rush Technologies online store (store.headrushtech.com), by calling 877-565-6885 (720-565-6885) or through any Head Rush Technologies distributor.
About Head Rush Technologies
Head Rush Technologies applies innovative technologies to bring new adventure recreation
equipment to the climbing, zip line and amusement industries. Head Rush Tech products make
adventure activities safer. The company is best known for its application of eddy current braking
technology in its products, including the award-winning TRUBLUE Auto Belay and zipSTOP Zip
Line Brake. Its products are available directly through its sales team and website,
store.headrushtech.com, and through its global network of distributors.