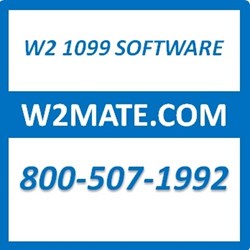 W2 Mate is also useful for filers facing QuickBooks 1099 problems such as 1099 alignment issues and misconfigured 1099 preferences. W2 Mate is also great for QuickBooks 1099 electronic filing.
Chicago, IL (PRWEB) December 14, 2013
QuickBooks-Compatible 1099 reporting software by Real Business Solutions, helps businesses and tax professionals prepare the new 1099 and 1096 information returns introduced by the Internal Revenue Service for the 2013 / 2014 tax season. W2 Mate 2013, the tax reporting software offered by the company, communicates directly with QuickBooks to import vendor and 1099 forms information. Once the data is imported QuickBooks users can utilize the 1096 / 1096 printing engine inside W2 Mate to prepare recipient, state and IRS copies.
For tax year 2013 (filing in 2014), the IRS changed the spacing and sizing on a number of 1099 forms including 1099-MISC and 1096 forms which are natively supported by QuickBooks. This change by the IRS required reprogramming of any tax application that produces these forms. This means that older QuickBooks versions will not be able to produce the new forms.
W2 Mate software can prepare 1099 forms for most versions of QuickBooks including 2006, 2007, 2008, 2009, 2010, 2011, 2012, 2013 and 2014. Free trial download of W2 Mate is available at http://www.realtaxtools.com/
"The QuickBooks import wizard that ships with W2 Mate software is one of the most advanced, yet easy to use QB import utilities available in the industry. W2 Mate directly connects to QuickBooks and extracts the information needed to print and electronically file QuickBooks 1099's and W2's. W2 Mate users can remap QuickBooks 1099 data into more than 14 types of IRS forms currently supported by W2 Mate including 1099-MISC, 1099-INT, 1099-B, 1099-K, 1099-DIV, 1099-R, 1099-S, 1098 and 1098-T." says W2 Mate product manager Nancy Walters.
W2 Mate also meets the 1099 electronic filing requirements of the Internal Revenue Services and a number of state departments of revenue by proving the ability to generate files in the IRS 1099 electronic filing format. As of 2013 the following states participate in the Combined Fed / Stat filing program (where the IRS forwards e-filed 1099s to the state): Alabama, Arizona, Arkansas, California, Colorado, Connecticut, Delaware, District of Columbia, Georgia, Hawaii, Idaho, Indiana, Iowa, Kansas, Louisiana, Maine, Maryland, Massachusetts, Minnesota, Mississippi, Missouri, Montana, Nebraska, New Jersey, New Mexico, North Carolina, North Dakota, Ohio, South Carolina, Utah, Virginia and Wisconsin.
W2 Mate is trusted by thousands of businesses and tax professionals nationwide. Free trial of W2 Mate can be downloaded by visiting http://www.realtaxtools.com/.