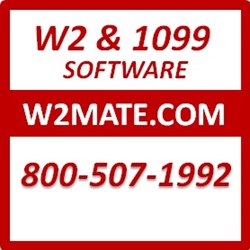 Our W2 Mate software provides one of the most powerful and easy-to-use tools for 1099 Filing on the market today.
(PRWEB) February 03, 2014
Real Business Solutions (http://www.W2Mate.com/W2-Mate.html ), provider of 1099 software programs, invites Intuit QuickBooks, Microsoft Dynamics (Great Plains), Sage 50 (Peachtree) users to try the state-of-the-art 1099 import wizard available in its W2 Mate software. W2 Mate, W2 1099 processing system, is loaded with features that make it easy and affordable for companies, tax professionals and financial institutions to electronically file IRS 1099 forms including 1099-MISC, 1099-INT, W-2, 1099- DIV, 1099-R, W-3, 1096, 1099-S, 1098-T, 1098, 1099-A, 1099-B, 1099-C, 1099-PATR and 1099-OID.
Risk-free trial of W2 Mate 2013 can be downloaded from http://www.W2Mate.com/. Customers can purchase W2 Mate and receive it instantly.
Using 1099 E-File is secure, easy to use, efficient, fast, flexible and helps save the environment. Any filer of information returns may file their returns electronically. Any corporation, partnership, employer, estate or trust, who files 250 or more 1099 forms for any calendar year must file their Information Returns electronically.
W2 Mate helps QuickBooks, Sage 50 and MS Dynamics users e-File the following IRS W2 / 1099 forms: 1099 MISC Forms (Miscellaneous Income), 1099-INT Forms (Interest Income), 1099-DIV Forms (Dividends and Distributions), 1099-R Forms (Distributions From Pensions, Annuities, Retirement, etc), 1098-T Forms (Tuition Statement), 1096 Forms (Annual Summary and Transmittal of US Information Returns), 1099 K (Merchant Card and Third Party Network Payments) , W2 Forms (Wage and Tax Statement), W3 Forms (Transmittal of Wage and Tax Statements), 1099-B Forms (Proceeds From Broker and Barter Exchange Transactions), 1099-PATR Forms (Taxable Distributions Received From Cooperatives), 1099-OID Forms (Original Issue Discount), 1099-S Forms (Proceeds From Real Estate Transactions), 1098 Forms (Mortgage Interest Statement), 1099-A Forms (Acquisition or Abandonment of Secured Property) and 1099-C Forms (Cancellation of Debt) .
Give W2 Mate software a test drive and see for yourself how easy 1099 filing can be. Visit http://www.W2Mate.com/W2-Mate.html