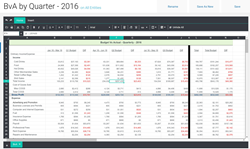 We saw a need in this area because BVA reporting is a best practice but, more often than not, it's ignored because of a lack of time or resources.
Austin, TX (PRWEB) June 29, 2017
Qvinci Software – the leading provider of cloud-based financial data consolidation and reporting – has released an exciting new capability that benefits users by fully automating the generation of Budget vs. Actual reporting.
Qvinci's most recent breakthrough leverages its powerful and patented consolidation, syncing, mapping, reporting and work-flow management technologies to allow users to produce customizable BVA reports that include budget data from an unlimited number of QuickBooks files.
Now, if a business has its budgetary data saved in QuickBooks, Qvinci can pull that data and create BVA reports that support:

Custom date ranges
Period-over-period budgets
Consolidated budgets and budget comparisons
Virtually unlimited user-defined customizable variations of the BVA reports
With standardized and automated templates available, performing these actions has never been easier.
Qvinci's Founder and Chief Innovation Officer Charles Nagel designed the automated BVA reporting tool to benefit the large number of businesses that currently forego the manual BVA practice because it's too time-consuming or costly.
"Any successful business owner or business advisor will tell you how important it is to have a budget," said Nagel. "They'll also tell you how critical it is to compare that budget to actual performance on a monthly basis."
"We saw a need in this area because BVA reporting is a best practice but, more often than not, it's ignored because of a lack of time or resources. Our solution removes both of those obstacles. Now, with the Qvinci BVA tool, the entire process is automated," Nagel added.
According to CEO Brad Adams, Qvinci extends the value of BVA reporting by allowing companies to automatically consolidate, sync and map multiple budgets in addition to creating custom KPIs based on BVA data.
"The ability to have business intelligence based on BVA results will provide business owners and their advisors with another game-changing intelligence tool to effectively compete in the marketplace." Adams said.
The BVA tool is the latest development in support of Qvinci's mission to develop and patent best-in-class, near real-time, cloud-based financial data consolidation, reporting, business intelligence and workflow management solutions for the accounting, franchising and multi-unit business markets empowering decision-makers and their advisors with secure and automated ERP-like features and functionality that is affordable and easy to use.
Qvinci offers an extensive array of financial reporting and business intelligence capabilities that benefit the accounting, franchising and multi-entity business sectors. The No. 1 rated app in the Intuit App Store, Qvinci is ProAdvisor recommended and has been a reporting partner of the Inuit Franchise Program since 2011.