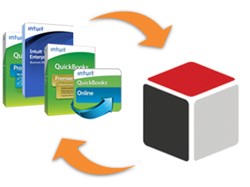 "Our new Basic edition provides companies with the bi-directional Account to Customer sync that they need at a lower monthly price." - Amanda Anderson, Marketing Manager at Epicom
Austin, Texas (PRWEB) February 11, 2014
Epicom, a technology solutions firm focused on Customer Relationship Management (CRM) consulting, development and integration, today announced its release of a lower-priced edition of its existing QuickBooks plugin for SugarCRM. Epicom's new Basic edition enables companies to bi-directionally sync Customers in QuickBooks with Accounts in SugarCRM for only $49 per month.
Epicom's Basic edition includes:

Bi-directional sync of Sugar Accounts and QuickBooks Customers
Sync of QuickBooks Customers' Outstanding Balance and Terms to Sugar Accounts
Creation of new QuickBooks Customers from SugarCRM
Creation of new Sugar Accounts from QuickBooks
Sync of tax rate codes from QuickBooks to SugarCRM
Pre built Sugar report to show all Accounts with Outstanding Balances (licensed editions of SugarCRM only)
Epicom's Premium edition offers companies more advanced features including the ability to sync Invoices, Sales Receipts, Line Items, and Products from QuickBooks to Sugar. The Premium edition is priced at $195 per month. Both the Premium and Basic editions of Epicom's integration are compatible with SugarCRM's latest release, Sugar 7.
"Our Premium edition offers a more advanced integration for companies needing a full-featured sync of transactions," said Amanda Anderson, Marketing Manager at Epicom. "After our product launch last year, we found there was also demand for a slimmed down version of our plugin. Our new Basic edition provides those companies with the bi-directional Account to Customer sync that they need at a lower monthly price."
The Basic and Premium editions of Epicom's QuickBooks integration for SugarCRM are available for download from the Intuit App Center and come with a 30-day free trial. Both editions are compatible with all licensed editions of SugarCRM, Sugar Community Edition, and Sugar versions 6.3 to 7.x. Epicom's QuickBooks integration is also compatible with QuickBooks Pro, Premier, Enterprise and QuickBooks Online.
To learn more about this product, or to start a 30-day free trial, visit http://appcenter.intuit.com/epicom.
About Epicom Corporation
Epicom customizes, supports and hosts high-performance web-based Customer Relationship Management systems. Epicom has completed hundreds of successful CRM projects and is one of Sugar's leading North American Gold Partners. Our focus is on consulting and executing complex SugarCRM deployments, customizations and integrations. For more information, call 512-481-9000, visit our website at http://www.epicom.com, or follow us on Twitter @epicomcorp.