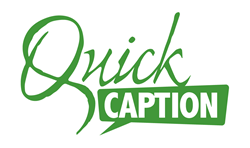 Our new website represents the company well as a leader in the field of captioning services.
Riverside, CA (PRWEB) June 21, 2016
QuickCaption, a Riverside, California-based company providing captioning and Communication Access Real-time Translation (CART) services for persons with hearing loss, announced this week that they have launched a new website. The website was developed in partnership with Modmacro, Inc., a web design and digital marketing firm in Menifee, California.
The new site provides updated and expanded information about the broadcast captioning, media captioning, CART, and transcription services provided by QuickCaption, and gives potential customers an easy way to find out more about the company, or to contact them to request service or obtain a quote. The site also provides a demo of QuickCaption's easy-to-use, secure, web-based CART interface, which can be easily customized by the user.
QuickCaption Owner, Antha Ward, said of the new website, "We are so pleased with our new website. We feel that it really represents our company well as a leader in the field of captioning services. It is also much more user-friendly, making it easier for potential clients to discover what our company is about and the services we can provide to persons with hearing loss. As a company, we have always been dedicated to customer service, and this website gives us another way to connect with those who could benefit from our services."
The website also provides detailed information about the experienced and dedicated captionists working with QuickCaption, including their CART/Captioning specialties, as well as the professional team that provides the personalized service and technical support services for which QuickCaption is known.
More than 32 million Americans having some type of hearing loss. QuickCaption's services help clients communicate effectively with this portion of the population, giving them access to full participation in events and meetings. They also allow schools, governments, courts, businesses and other institutions to be compliant with the Americans with Disabilities Act of 1990, which requires reasonable accommodations be made for those with disabilities, including the deaf and hard of hearing, in employment and services.
About QuickCaption
QuickCaption was founded more than 17 years ago in order to provide the highest quality services to clients and to persons with hearing loss. They are one of the few nationwide full service captioning agencies and are an approved vendor for the Described and Captioning Media Program (DCMP). They provide reliable, professional remote and onsite CART and real-time captioning, as well as broadcast real-time closed captioning, transcription, and video captioning services. Find out more about QuickCaption at their new website: http://www.quickcaption.com/