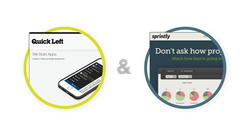 We're excited to announce that we decided to combine our forces, forming like Voltron, into one agile-development-superpower. Ingrid Alongi, CEO
Boulder, Colorado (PRWEB) January 28, 2014
Quick Left, award-winning software consultancy and Inc. 500 fastest-growing company, and Sprintly, the SaaS management platform for software development have announced today that they have agreed to merge. As a result of the deal, Quick Left increases its size and footprint while Sprintly adds resources and development talent.
The new organization will operate as Quick Left with a mission to empower craftspeople to deliver outstanding software products. Sprintly, the tool designed to streamline the relationship between software makers and managers, will be the flagship in a line of B2B SaaS products that the company expects to market as a result of the merger.
"We've always aimed to build top notch products for clients, but with the Sprintly, we can solve development problems by building our own," said Ingrid Alongi, now Quick Left Founder/ CEO-Consulting. "This alignment expands our services offering with strong product leadership that benefits our clients and helps us reach more of our audience with an immediate presence in San Francisco and Portland."
"Quick Left is a core contributor to the front end architecture of Sprintly and it was my desire to do more great work with their team," said Joe Stump, Founder/ CEO of Sprintly who will join Quick Left as Chief Product Officer. "By combining our offerings, we form a veritable Voltron of technologies and methodologies aimed at making developers' lives easier."
Former Sprintly CSO Matt Work will become CEO of the new Quick Left, Inc. Work, former GM of Pivotal Tracker and former CEO/ Founder of both Cohuman and Discovery Mining understands the value of the relationship between software development teams and the SaaS applications that enhance such specific workflow.
"Software developers and software development platforms need each other so when the best of these meet, amazing things can happen," said Work. "I'm excited to lead these talented teams who together will build incredibly intuitive, useful and profitable products."
Quick Left will operate under the management of CEO Matt Work, former Sprintly CSO; Founder/ CEO-Consulting Ingrid Alongi, former Founder/ CEO Quick Left; Founder/ CPO Joe Stump, former Founder and CEO of Sprintly; and, Founder/ CTO Sam Breed, former Founder/ CTO Quick Left.
About Quick Left
Quick Left Inc. is a leading provider of innovative software development services and tools headquartered in Boulder, Colo. Its services team specializes in web development, design, training and mobile applications. The company also operates Sprintly, a development management platform designed to power a more productive relationship between teams and their managers. Together with Sprintly, Quick Left accelerates software product launches with a process defined by accountability, simplicity, scalability and today's smartest web technologies. Visit Quick Left at quickleft.com.
About Sprintly
Sprintly is an Agile, B2B SaaS Application tool created to power a more productive relationship between development teams and their management. By designing Sprintly to be more transparent, flexible and usable than competitive products, cross-functional teams can reliably deliver higher quality software products. Visit Sprintly at sprint.ly.