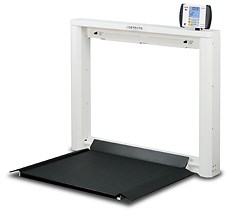 Issaquah, WA (PRWEB) December 10, 2013
QuickMedical announces the release of the new Detecto 7550 wall mount wheelchair scale. The Detecto 7550 is an innovative and unique wheelchair scale useful for a variety of health facilities where space is at a premium including nursing homes, bariatric clinics, and hospitals. The wheelchair scales are manufactured entirely in the USA. The scales feature a fold-up storage design that saves space when not in use, yet easily accommodate most wheelchairs. The slim 6.6-inch profile takes up minimal space when installed in a confined medical facility hallway, clinical office, or patient room. The scale is utilized by simply lowering the platform from the wall. The gas spring lifting mechanism will gently lower the platform into place. The patient can be easily rolled onto the scale and the platform lip will hold the wheelchair securely in place. The gas spring lift will also return the scale to the wall. No heavy lifting is necessary. When not in use the scale remains conveniently against the wall out of the way.
QuickMedical is proud to be the very first distributor of this unique American made product.
The Detecto 7550 utilizes MedVue medical weight analyzer technology which can store 99 weight tares, display weight, height, and BMI, simultaneously, and has Wi-Fi and USB connectivity.
About QuickMedical:
QuickMedical is a leader in the distribution and sale of medical equipment and supplies. With great pricing, same day shipping, and a best price guarantee, QuickMedical has the professional medical equipment used by medical and healthcare professionals in their facilities everyday. In 2013 QuickMedical expanded services to include QuickMedical GS as a full division of QuickMedical. Now, federal government customers can order any of over 12,000 items on our FSS/GSA contracts directly from QuickMedical Government Sales.