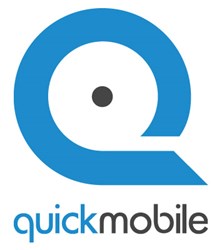 This exclusive partnership is a strategic, technological and cultural fit for both companies, and both of our customer bases will benefit.
BARCELONA, Spain, LONDON, UK and VANCOUVER, B.C. (PRWEB) November 19, 2013
EIBTM EXPO – QuickMobile and Lumi (comprised of IML Worldwide and Lumi Mobile) today announced a strategic partnership that brings together the leading provider of enterprise mobile event technology with the global specialist in consumer insight mobile technology and real-time audience engagement. As a result of the partnership, QuickMobile will integrate Lumi's patented Join In audience polling and discussion application into its MobileEvent app solution. Lumi becomes a tier-one partner of QuickMobile's technology, marketing and selling mobile event apps through Lumi Mobile and IML Worldwide's international offices.
For QuickMobile, the exclusive agreement provides the integration of an enterprise-grade interactive tool and a multi-national partner to help expand its international reach. The partnership also extends Lumi's technology to new meeting industry customers while adding a full conference app solution to its offerings.
Growing Demand for Mobile Event Technology
The growth in mobile technology has driven the demand for interactive and secure mobile audience response tools and services for all types of events, from the live broadcast of the Oscars to shareholder meetings. The use of technology at events is now the norm with 97.7% of research survey respondents having used some form of technology. Further, 79% of respondents believe audience insight is lost without the use of interactive event technology.1
Mission Critical Audience Response
"When audience response is mission critical and the results matter, then there is no better company or technology than IML Worldwide and Lumi, which has built a reputation for reliable, secure and real-time audience engagement," said Patrick Payne, CEO of QuickMobile. "Lumi's platform is light years ahead of competitor solutions, and as we move deeper into the enterprise space, Lumi's Join In app will be a valuable companion to our single event and multi-event app solutions. In addition, having a world-renowned international partner selling our technology will help us expand our reach into new markets and customers. This exclusive partnership is a strategic, technological and cultural fit for both companies, and both of our customer bases will benefit."
Lumi's flagship product, Join In, is a mobile interactive tool designed for real-time interaction at live events and is deployable to all mobile platforms. Join In ensures real-time response, scalability and reliability at major events of all types. Using the QuickMobile MobileEvent solution, customers will be able to include Join In at their meetings and conferences, providing them with a quick and easy way to drive real-time polling and discussions to capture and measure audience insight.
Engaging and Effective Event Experiences
Richard Taylor, CEO of Lumi, said, "QuickMobile is recognized for its cutting-edge technology and customer service, and is the type of company that can help us further strengthen our customers' events and businesses. Together, we have tremendous geographical reach and a long list of prospective customers. This partnership gives our clients a compelling integrated solution based on the superior technologies of both companies. It allows Lumi and IML Worldwide, along with QuickMobile, to be the mobile audience engagement partners of choice. We are committed to creating engaging and effective experiences for event organizers and attendees alike. We look forward to working with QuickMobile as we quickly develop and deploy go-to-market strategies around the world."
QuickMobile's mobile event app platform allows organizations of all sizes to leverage mobile technology to create more engaging and richer meeting experiences. Among the more than 40 features that customers can select from are fully individualized schedules, integrated social media, real-time audience and participation analytics, and configurable and custom gamification modules. An intuitive content management system puts the customer in control of every aspect of the mobile app, simplifying last-minute schedule changes, content sharing, communications and marketing.
About QuickMobile
QuickMobile is transforming meetings and events with mobile apps that engage and delight audiences. QuickMobile's event app platform creates an always-on communication channel that allows event owners to increase attendee participation, build loyalty and generate revenue through richer experiences. By fully leveraging the capabilities of QuickMobile's mobile and social solutions, customers can extend events into yearlong conversations and build lasting relationships with their audiences. QuickMobile's head office is located in Vancouver, Canada. For more information, visit http://www.quickmobile.com. Follow QuickMobile on Twitter @quickmobile.
About Lumi
Lumi (comprised of IML Worldwide and Lumi Mobile) is the global leader in real-time interactive audience engagement and consumer insight mobile technology. Its innovative solutions create engaged meeting and event environments in the room, in the moment or across the world, harnessing insight and providing stakeholders with an unparalleled understanding of discussion, opinion and behavior. Operating from 12 offices globally, Lumi engages annually with over half a million people at more than 2500 business conferences, annual meetings, training workshops and market research sessions – ranging in size from ten to ten thousand participants. For more information, visit http://www.lumimobile.com or http://www.imlworldwide.com.
Sources:
1. Event Industry Global Market Research Report: http://imlworldwide.com/wp-content/uploads/2013/02/IML-Event-Industry-Global-Market-Research-Report_US.pdf
---
For Lumi:
Stephen Benzikie, +44 7740 038929, sbenzikie (at) bell-pottinger (dot) com